'Gameboys' sweeps BL Category at the 2nd Village Pipol Choice Awards
The year 2020 officially gave rise to the Philippines' Boys' Love genre. Gameboys from The IdeaFirst Company was the 1st among several BL shows that forwarded the entertainment industry's 'new normal'. Undoubtedly, Gameboys became the standard for Pinoy BLs during the pandemic lockdown.
Moreover, Gameboys: Level Edition's release on Netflix made the show even more accessible to a wider audience. With the series' highly-anticipated 2nd season in the horizon, Elijah Canlas and Kokoy de Santos's tandem is a force to be reckoned with. Talk about playing the game right.
Courtesy of The IdeaFirst Company
---
It has been eleven months since the show's 1st episode aired. Just six months ago, its last episode was released. However, Gameboys is still getting recognitions to this day. That said, Gameboys added BL Series of the Year and BL Love Team of the Year under its belt. The series swept the BL category during the 2nd Village Pipol Choice Awards (VPCA) on March 6th.
BL SERIES OF THE YEAR IS 'GAMEBOYS'
Director and executive producer Perci Intalan received the award in behalf of the folks behind Gameboys. He's nothing but thankful for all the support the BL show has gotten. He also promises that the 2nd second is something we all should look out for.
Courtesy of The IdeaFirst Company
"…To all our friends in Village Pipol, thank you very much for naming Gameboys as the best BL series. On behalf of Kokoy, Elijah, Adrianna, Kyle, Direk Jun, of course, Direk Ivan, and Ash, and everybody in the team — we really appreciate this award. It gives us inspiration to do better, fly higher in Gameboys Season 2. Expect a lot of exciting stuff there…"
Thank you @villagepipol for awarding GAMEBOYS as the BL Series of the Year, @elijahcanlas_ and @kkydsnts as the BL LoveTeam of the Year and king @kkydsnts as the Promising Male Star of the Year! #2ndVPChoiceAwards #VPChoiceAwards2020 #VPCAGoesDigital pic.twitter.com/aBtZixnigl

— Perci Intalan (@percinotpercy) March 7, 2021
KOKOY AND ELIJAH ALSO BAG 'BL LOVE TEAM OF THE YEAR'
Right from the start, Kokoy de Santos and Elijah Canlas showed a lot of spark. Since Gameboys is set during the 2020 lockdown, the filming style used reflected the shift from face-to-face contact to virtual meets. The cast had to act from their own homes as if they're really on a Zoom call. Facial expressions and getting emotions across were the shows highlights. Despite all that, the chemistry between the cast, but most especially Kokoy and Elijah, translated well.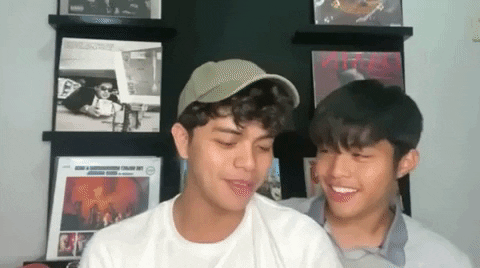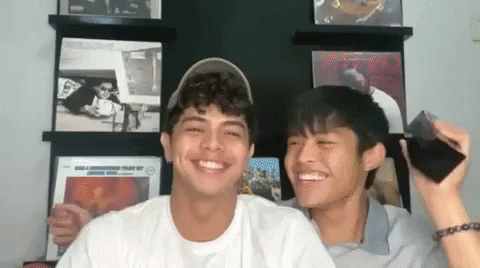 Both Kokoy de Santos and Elijah Canlas received their awards. Even then, the chemistry between the two were off the charts. No wonder people get so kilig — we just can't get enough! Here's what they had to say:
"…Thank you VP Choice Awards for naming us the BL Love Team Team of the Year. 'Di 'to magiging posible if it weren't for Direk Ivan Payawal, Ash Malanum, Nestor Abrogena, Miss Jen Mauricio. Everybody — lahat po nang bumubuo ng Gameboys team, The IdeaFirst Company, Direk Jun and Direk Perci. And most especially, the Gameboys family — sa lahat po nang nanood, sa lahat po nang sumusuporta, sa lahat ng tao na bumubuo ng Gameboys. Nagpapasalamat po kami sa inyo. Mahal na mahal po namin kayo. Thank you for this award. And we hope to see all of you soon. Ingat po lagi…"

Meanwhile, Kokoy also won Promising Male Star of the Year.
HOW VILLAGE PIPOL DETERMINED THE WINNERS
The livestream for the 2nd Village Pipol Choice Awards was hosted by JV Cruz and Joy Barcoma. Moreover, the winners were determined through a voting system: 25% from online votes, 25% from Facebook shares, 30% from the editorial team, and 20% from an esteemed panel of judges.
Watch the replay on Friday, March 12, on Village Pipol Magazine YouTube Channel.
PRESENTER:
Casino Filipino
CO-PRESENTER:
Sharp Philippines
Jack 'n Jill
Mang Juan Granny Goose Tortillos
MAJOR SPONSOR:
Kadiwa Ni Juan
Bayong Republic
MINOR SPONSOR:
Tea Ni Juan
Jacko's Burger
Dimsum Panda
Master Kenzo Takoyaki
Nuat Thai
MEDIA PATNER/S:
Business Week Mindanao
Chinese Journal Today
Mindanao Daily
Panay News
United News
GizGuide
Iconic MNL
Manila Millennial
Lord Harvey Monteroso
Having graduated from Xavier University-Ateneo de Cagayan with a Bachelor of Science degree in Psychology, Lord Harvey Monteroso doesn't shy away from using words to create visual images when he writes. He also makes sure to add humor with his in-depth analyses when writing movie/trailer/tv series/music video/song reactions and reviews.