Summer is here. We've been cooped up for way too long. However, due to the COVID-19 pandemic, these outfits wouldn't be that useful. The pandemic has made me anxious and depressed due to the constant bad news that comes up on my timeline. To make myself feel better, I'd dress up once in a while. All of those Pinterest deep dives will surely be put to good use soon. Recently, Gen Z aesthetics mesmerized me and as Gen Z myself, I wanted to try these out. So, here are a few summer outfits that I've collected within said categories.
Editor Curates Perfect Summer Outfits In Gen Z Aesthetics
The 90s aesthetic has a lot of subgenres. It includes grunge, hip-hop, urbancore, glitch, and nostalgiacore among others. It involves an aesthetic that gives 90s kids a sense of nostalgia, their childhood shows, snacks, trends, fashion, and even video games. With a white shirt, denim Bermuda shorts, and a pair of white chunky sneakers, this aesthetic will be the easiest one to replicate.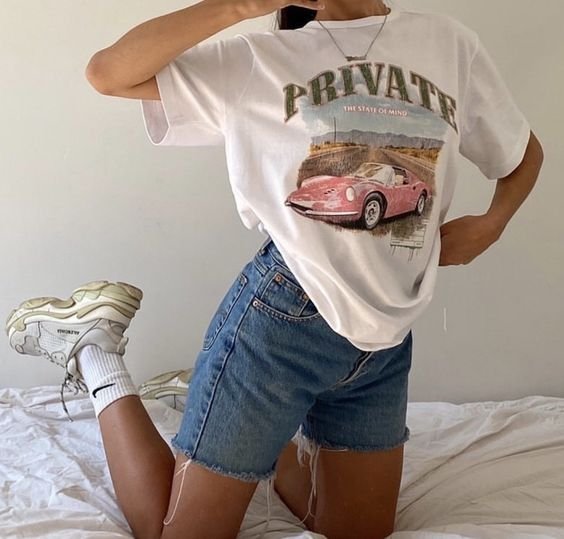 This aesthetic could also work with a white cropped tank, basketball shorts, tube socks, and a pair of white sneakers for a sporty 90s look. Of course, don't forget to accessorize with gold or silver chains for a more put-together look.
Just like the 90s aesthetic, this has a lot of subgenres. It has a group of aesthetics that goes for a cutesy look. This also includes VSCO. Sometimes, they also draw some of the Kawaii-centric aesthetics in Japan, but with a more subdued look compared to how over-the-top some of the looks in Harajuku tend to get. Sometimes, this look gets confused with the preppies which actually became another subgenre under academia aesthetic.
Although this aesthetic doesn't particularly resonate with me, it would be the easiest to throw on. You can just throw on a floral dress, a pair of sneakers, or strappy sandals, and you'll be ready to go. Aside from a dress, you can go for a more classy look with a white cami top, a midi skirt, and a pair of strappy sandals. Accessorize with a black baguette bag, black sunglasses, and gold necklaces for a more put-together look.
Although the term E-Girl was coined in 2019 to 2020, the fashion sense dates back to around 2013 usually published in Tumblr. The aesthetic usually shows off a persona of a geeky yet sexy while being slightly dark. It also manifests an interest in anime, manga, video games, Harajuku fashion, music, and sometimes even lingerie. The fashion trends draw inspiration from emo, scene, goth, grunge, and animecore aesthetics; invoking a sort of "edge" to their personality.
You can wear a black mini dress, fishnets, and a pair of boots. For a more comfortable approach, wear an oversized shirt, fishnet undershirts, and a pair of boots. Don't forget to accessorize with a lot of chain and black harnesses. However, wearing fishnets under the sun could cause awkward tan lines. Although when that's the case, fishnets don't trap the heat that you experience during this summer.
Also known as farmcore and countrycore, it has a romanticized interpretation of western agricultural life. It centered on ideas of simple living and harmony with nature. Themes associated with cottagecore include self-sufficiency, baking, and caring for people. Although the aesthetic became prevalent on social media, it became popular within lesbian and woman-loving-woman (WLW) communities. It also has subgenres that include bloomcore, cottagegore, honeycore, vaporcottage, and southwest cottagecore among others. Aside from that, it also has related aesthetics that include ethereal, fairycore, forestpunk, plant mom, witchcore, woodland goth, and hellenic among others.
You can wear a long, loose-fitting, flowy dress and skirts. Aside from that, you can also incorporate puffy sleeves and handcrafted accessories. Go for naturally occurring or faded colors including brown, baby pink, olive green, ivory, maroon, beige, ochre, dusty rose pink, light yellow, and baby blue. It also uses a lot of patterns such as stripes, paisley, faded floral, and gingham. So, you can wear a white babydoll dress or a gingham dress and a pair of sandals.
Academia refers to a group of aesthetics that involve learning, particularly through study, research, and reading. It also has a lot of subgenres that include dark academia, light academia, chaotic academia, art academia, pastel academia, romantic academia, fairy academia, and darkest academia among others. I prefer dark and light academia because of its key colors which consist mostly of earth tones, black, brown, tan, beige., plaid, and dim shades.
You can use a short-sleeved brown button-up top and white linen shorts. Aside from that, you can also go for an argyle sweater vest and trousers. You can wear a pair of sneakers or loafers for a more academic look. Although the academia aesthetic usually has blazers, turtlenecks, corduroy jackets, and outerwear, it would be better to strip those down to make the look perfect for summer.
Tell us your favorite summer look in Gen Z aesthetics. 
All photos came from Pinterest.
Angela Grace Baltan
Angela Grace P. Baltan is a Communication graduate from Colegio de San Juan de Letran. She doesn't hesitate to be opinionated in analyzing movies and television series. As a writer, she uses her articles to advocate for feminism, gender equality, and mental health among others.