Dama Ko Lahi Ko Bets on Filipino Culture as Economic Stimulus
Dama Ko Lahi Ko, the volunteer-driven initiative encouraging the celebration of Filipino culture through the five senses every Independence Day, enters its third year.
Established in 2021 by the Filipino Culture Collective, the movement banks on the Filipino's massive and constant presence on social media to pique interest in, and spread awareness of, what makes Filipino culture unique. In this way, the movement seeks to spotlight Filipino culture (in products, services, and experiences) on the global menu.
Modern Creative Visionaries
In an intimate event held at the prestigious Ito Kish showroom, prominent figures from various creative fields shared their insights on promoting Filipino culture locally and abroad.
Each speaker focused on a sense. Award-winning furniture designer Ito Kish described how growing up in San Pablo, Laguna was a tactile inspiration. Solihiya chairs at his grandmother's house, balusters that let in cool breezes, became memories woven into his creativity. "Filipino will always be my design language," he said.
Gino Gonzales
Renowned scenographer Gino Gonzales illustrated the impact of the terno in Philippine history to champion the sense of sight, with vintage photographs showing how the terno was worn in everyday life. "When you wear a terno, you wear your heart on your sleeve," he said. "You wear your nationality for everyone to know that you are Filipino."
Artu Nepomuceno
Artu Nepomuceno, one of the most talked about young photographers today, shared his experience of shooting cultural icon Apo Whang-od for a magazine's recent issue which rapidly gained worldwide acclaim. "I wanted to photograph Apo Whang-od like my lola," he said. "When people abroad message me about the cover, they thank me for bringing a piece of home to the world. And now this photo exists in homes everywhere."
Bayang Barrios
Bayang Barrios' lilting voice made its entrance before her, captivating the audience. The indigenous musician spoke of her journey to embracing her Manobo roots, culture, and music. She emphasized that more people should appreciate the different kinds of music in our heritage: "Kung hindi natin mamahalin ang kulturang atin, tayo po ay magkakawatak-watak at mismong bansa ay hihina at walang mapatutunguhan."
Jenny Yrasuegui
Finally, restaurateur Jenny Yrasuegui spoke for the senses of smell and taste. She pointed out that the combination of Filipino hospitality and food is unparalleled. "Filipino food does not need to be elevated because there is nothing to elevate." she said. "All you need to do is to find creative ways of presenting it."
Culture and Soft Power
During the event, the movement's co-founders Leigh Reyes and Len Cabili emphasized the importance of Filipino culture as soft power in a world seeking what's authentic, memorable, and valuable.
"What can help us advance as a nation can come from who we are. We can all be part of it by living our culture collectively, consciously, and consistently in our everyday lives," the co-founders emphasized.
Moreover, Dama Ko Lahi Ko is the unifying theme that compiles all Filipino experiences within the framework of the five senses. By using the hashtag #DamaKoLahiKo when sharing Filipino themes, everyone can actively support the growth and recognition of Filipino culture and talent—shaping a future where the Filipino identity thrives both at home and abroad.
For more information on Dama Ko Lahi Ko and upcoming events, please visit damakolahiko.com or follow us on Instagram: @damakolahiko.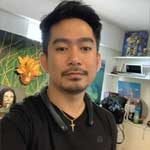 Josh Austria
Aside from being a businessman, Josh Austria has been working in PR and media industry for more more than a decade. From his years of experience as the Marketing and Advertising Head of Village Pipol Magazine, he has built strong relationships with creative people, brands, and organizations.