Painting is one of those things that could put what's in our minds into images. It is something that can turn our daydreams into reality.
For most artists, it is the empty canvas where acrylic colors from their palette are meant to be, but for Tisha Chavez, the fabric is where her art belongs.
She has been featured here before in Village Pipol on her journey to starting her own painted fashion business.
Now, let's dig into her depths as an artist.
Fantasies into Clothes
Tisha Chavez is known for turning pieces of clothing into art. She paints images of nature and women with vibrant colors.
Her paintings on fabrics give a kind of serene ambiance while enjoying its picturesque images.
Tisha gets most of her inspiration from paintings and landscapes.
"Most of my paintings are places that I'd rather be in. I paint them to show the imaginary places I daydream about and to evoke a sense of comfort to the viewers," she said.
Tisha is also painting representations of the LGBTQIA+ community, particularly the sapphic ones.
Queer in the World defines a sapphist as a woman who is attracted to other women.
"I also tend to paint two women to show the beauty of sapphic relationships. For some, they might interpret these women as just friends, but they are actually girlfriends, and I don't want to hide that fact because I believe that representation is very important in art and media," Tisha explained.
Tisha has been painting not only her wildest fantasy places, but also as a medium for what she stands for in society, such as acceptance of one's gender identity.
Colors into Threads
Painting for some artists gives them a feeling of being alive or comfortable, where it feels like they have escaped from the woods.
For Tisha, painting on fabric feels different than painting on a canvas.
"Paint has a tendency to soak through the threads of a loosely woven fabric before it has dried. The intensity of the colors tends to be lessened as a result. So, painting on a finely woven fabric is simpler than one that is loosely woven. "
Likewise, she shared that she feels more relaxed while painting when the fabric is thick and not absorbent.
Fabrics in Pink
For artists, there has to be one memorable masterpiece for them, something that bears a good memory.
For Tisha, her most memorable pieces are the Sampaguita and Pink dress she designed for former Vice President Leni Robredo.
See Also
She shared that collaboration started when Atty. Leni praised her artworks on Facebook which gave her mother the idea to design one for the Angat Buhay Chairperson.
"When we delivered the dresses to the Office of the Vice President, VP Leni was amazed and she complimented my works a lot. She even encouraged me to study Fashion Design at De La Salle-College of Saint Benilde. Huge honor talaga 'yun for me."
She also took part in the LENItiative project for One's People March during the national campaign election.
Once again she is an artist who does not only paint for her imagination but uses her talent in being a part of people's movement to support a good cause.
True to oneself
Painting is a form of self-expression; it helps individuals to put into colors and images things that may seem ineffable.
For Tisha, the essence of being an artist is putting your heart into your work while reflecting on who you are.
"Every artist has a unique and important role to play in the growth, development, and general well-being of our society. We have the ability to be immensely sensitive to various things and express this in whatever medium we want. It's like we have the power to absorb the aura of a place or the memory of a feeling. I think the most important thing for an artist to do is to be as authentic to themselves as possible."
You can see and buy her work at @tcpfbasics on Instagram and Tisha Painted Fashion on Facebook!
Show your daydreams through art!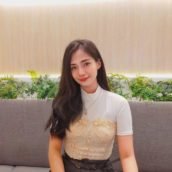 Veronica Louis Gannaban
Nica is a resin artist, watercolor painter, and writer. She loves putting art into life because it feels liberating. She believes that the most powerful form of art is through words, for it can set us free. Her life is sweeter than fiction because of Taylor Swift's music, fur babies, and chick flick movies.