'The Good Doctor' star Freddie Highmore reveals getting married
Freddie Highmore revealed his marriage in an episode of Jimmy Kimmel Live! last Monday, September 27.
The star of The Good Doctor described his wife as "a very wonderful woman."
This was after host Jimmy Kimmel pointed out his wedding ring.
Highmore told Kimmel,
"Yes, I got married. It's funny ever since I've been wearing this ring, people have been asking me if I'm married, so I figured I should clarify it,"
However, Highmore neither disclosed the identity of his wife nor how they met, only revealing that she is also British.
He added, referring to Tom Cruise's marriage announcement during The Oprah Winfrey Show in 2005,
"I'm not going to jump up and down on the couch on the talk show and express my excitement that way. I know that you do that in America, but I'm as happy as a Brit can be and I'm married so yes, I feel very happy,""
Moreover, Highmore is still getting used to the vocabulary of marriage.
Furthermore, he described the term "a married man" as old while the term "my wife" as possessive.
"We don't really use that yet, but we just point to the rings and be like, 'Here, look, make or draw your own conclusions,'"

See Also
Highmore rose to fame for his childhood roles in the films Finding Neverland and Charlie and the Chocolate Factory.
From 2013 to 2017, he portrayed Norman Bates in the psychological horror-drama series Bates Motel.
Currently, he plays Dr. Shaun Murphy in the medical drama series The Good Doctor.
For five seasons, Highmore has been portraying the young resident surgeon diagnosed with autism.
Congratulations on your marriage, Freddie!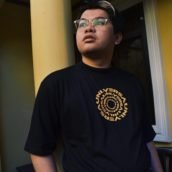 Kobe Adam Joshua Laurena
Kobe Adam Joshua Laurena is a writer who loves to tell stories from the perspectives of different people and everyday life. Apart from the pen, he loves to pick up the lipstick to transform into his frustrated drag persona: Anita Good Lovin'. He aspires to combine his love for writing and drag by creating a novel, short story, or screenplay about local drag queens in the future. He also has an obsession with sitcoms, women's pro-wrestling, and Funko Pops.