Taylor Swift bombarded Swifties from around the world with her news! The pop icon announced that Red (Taylor's Version) will be released this November 19. Fans have long speculated that 1989 will be her next re-recording. That's why most of the Swifties were caught off-guard when she announced that it is Red.
However, according to Billboard, the pop legend has hinted about it all along. So, here are four clues that Taylor Swift actually practically told us about Red.
In a springtime interview with Stephen Colbert, the incredible songwriter seemingly sprinkled several 1989 Easter eggs. Another diversion is when she released summer merch with a somewhat 1989 aesthetic. As we know now, it was Red (Taylor's Version) that was ultimately announced on Friday, June 18.
The singer said,
This will be the first time you hear all 30 songs that were meant to go on Red. And hey, one of them is even ten minutes long. Red (Taylor's Version) will be out November 19.
'nuff said, here are the hints that she left pertaining to the release of Red (Taylor's Version).
Four Red Hearts on a Tweet
On June 6, Miss swift shared some telltale emojis hinting at Red, posing as a tweet about her love for her fans. This is a reaction to Evermore's return to No. 1 on the Billboard 200.
She ended it with a note—four red hearts. It probably seems of minor importance to most people, but it might be the most obvious signal Swift gave to fans. Red is her fourth studio album.
This one hit me hard. I'm so in my feelings (more so than usual!) over what you all did here for evermore. Blown away by how much you care, and how long we've been caring about each other. ♥️♥️♥️♥️ Love you, so very much. https://t.co/E920qQg9vc

— Taylor Swift (@taylorswift13) June 6, 2021
A Casual Use of a Red Lyric
Also, we have another hint when she was promoting the Evermore vinyl release earlier in June. Taylor just so happened to reference the "like, ever" lyric from We Are Never Ever Getting Back Together.
You guys went and did the nicest thing this week and broke the record for biggest vinyl sales week.. like ever?
You guys went and did the nicest thing this week and broke the record for biggest vinyl sales week.. like ever? NOW WE DAHNCE. The willow (90's trend remix) is a thank you from me, available today only on my site 🥰 https://t.co/zSHpnhUlLb pic.twitter.com/susqoeHS4B

— Taylor Swift (@taylorswift13) June 3, 2021
Her Red-Era Look at the Brits
Remember the pop icon's glam look at the 2021 Brit Awards in May? It was all long hair, bangs, and red lips straight out of 2012. Another is that the snapshots she shared with fans had a feeling and filter reminiscent of that from her original Red album art.
Spinning in my highest heels, luv #BRITs pic.twitter.com/1TMBoCZ6Do

— Taylor Swift (@taylorswift13) May 11, 2021
She Sent Olivia Rodrigo a Red Ring
How lucky is Olivia, really? Back in March, Miss Swift generously mailed a gift to the rising pop star, her daughter. What was in that package might have been one of the earliest indications that Red was on her mind. Rodrigo shared with SiriusXM Hits,
Like 12 hours ago, I got a package from her with this like a handwritten note. And she gave me this ring because she said she wore one just like it when she wrote Red and she wanted me to have one like it.
Fun fact? Taylor wore a Love ring for her original Red album. For Red (Taylor's Version), a custom version of that same ring design is prominently shown on the album cover art. It featured the word, "Red" instead.
Literally Winking at Swifties in This Clip
As the incredible songwriter said in her announcement of Red (Taylor's Version),
Musically and lyrically, Red resembled a heartbroken person.
A person could say that long story short, it was a bad time; the wrong guy; she survived. As Swifties realized later, there was a clue in a short Spotify video accompanying Evermore's Long Story Short.
The musical genius was actually wearing the same coat and cap that became her cover look for Red (Taylor's Version). And in that clip, Swift winks.
THE WAY THE RED COVER IS THE SAME OUTFIT AS THE LONG STORY SHORT CANVAS ON SPOTIFY AND SHE WINKS IN THAT VIDEO LIKE SHE KNOWS pic.twitter.com/qxyttE52XZ

— tim tam (@swiftlyseven) June 18, 2021
I just can't believe that Taylor Swift doesn't just have a sweet beautiful voice and a brilliant mind when it comes to storytelling. She also is a genius when it comes to dropping subtle clues in everything she does. This usually results in Swifties losing their minds even in the slightest statements that she puts out.
What an icon.
And to all the haters, stay pressed.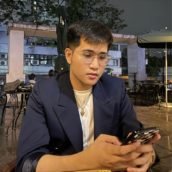 Raphael Garcia
Raphael is a person born between the generations of Millenial and Gen Z. He was produced by Cavite State University (Main Campus) with a bachelor's degree in Political Science. The lad has a fresh take on things, but can still stay true to his roots. He writes anything in Pop Culture as long as it suits his taste (if it doesn't, it's for work). He loves to wander around the cosmos and comes back with a story to publish.