Benefits of Hello Glow Sunflower Collection
One of our largest body organs is the skin. It only means that we will need better protection other than your ordinary skin lotion. This is where Hello Glow Sunflower collection comes in. These new skin protection products are boasting of a ton of amazing effects to your skin, providing you with different layers of protection.
Hello Glow Sunflower Multi-use Beauty Oil
Nourish your skin daily with the Hello Glow Sunflower Multiuse Beauty Oil to help repair skin damage, improve skin barrier function, as as an overall face and body moisturizer.
SRP 220.00
30 Wonders of Sunflower Beauty Oil
Moisturizes dry patches all over the body
Lightens dark areas of the body
Help lighten the appearance of stretch marks
Lighten scars
Soothes skin after waxing
Eases and calms rashes
Soothes sunburns
Soften cuticles and dry skin
Gives a radiant and glowing skin
Softens feet sole, knees and elbows
Lightens underarms
Reduce the appearance of underarm chicken skin
Removes excess makeup
Diminishes fine line and wrinkles
Improves the growing of eyebrows
Brightens under eye circles
Eased tired and puffy eyes
Relieves skin itchiness and redness
Moisturizes dry scalp
Moisturizes skin after shaving
Prevents hair loss
Provides shine on dry hair
Nourishes eyelashes
Boosts hair growth
Suits all skin types
Treat acne
Improve skin barrier
Makes hair manageable
Removes excess dirt on skin
Hello Glow Sunflower Serum Cleansing Foam
Reveal that soft, smooth and fresh skin after every wash with Sunflower Serum Cleansing Foam. It contains the anti-ageing properties of Niacinamide, and the benefits of Centella Asiatica and Sunflower Oil to help improve the texture.
SRP 220.00
Hello Glow Sunflower Serum Toner Mist
Soothe that dry skin and hair with Hello Glow Sunflower Serum Toner Mist. it has Sunflower Oil, Centella Asistica, and Glycerin to help improve skin texture. It is also formulated with Vitamin C to help improve skin radiance.
SRP 250.00
Hello Glow Sunflower Serum Sheet Mask
Calm skin redness, smoothen those dry and rough patches, and improve skin's firmness using Sunflower Serum Sheet Mask. It also helps lighten dark spots and softens skin with every use.
SRP 40.00
Hello Glow Sunflower Serum Soothing Gel
Soothe skin redness and help soften skin texture with Hello Glow Sunflower Serum Soothing Gel! It contains great anti-aging benefits and lightens dark spots with Niacinamide, Collagen and Aloe Vera. Improves skin barrier with every use.
SRP 299.00
Hello Glow Sunflower Serum Body Lotion
Rejuvenate your dull skin with Hello Glow Sunflower Serum Body Lotion. Tt has AHA to help lighten dark pigmentation, Shea butter that aids in boosting skin suppleness and Vitamin E to alleviate dry skin.
SRP 250.00
Whether it be summer time or a rainy day, you'll still need to protect your skin. With the different array of available products from the Hello Glow Sunflower collection, you're set to go out in the world. Available at Watsons, Lazada and Shopee.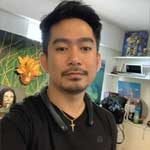 Josh Austria
Aside from being a businessman, Josh Austria has been working in PR and media industry for more more than a decade. From his years of experience as the Marketing and Advertising Head of Village Pipol Magazine, he has built strong relationships with creative people, brands, and organizations.