Inigo Pascual joins the lead cast of the upcoming American musical-drama series Monarch.
According to a Deadline article published this Thursday, September 16 (Manila time), the actor will portray Ace Grayson.
Ace, the adopted son of Nicolette "Nicky" Roman (Anna Friel), is an 18-year-old singer who dreams of becoming a country star like his grandfather Albie (Trace Adkins).
Moreover, Pascual confirmed the news in an Instagram post, saying how the "news is out."
"CRAZIEST BIRTHDAY. Sorry for keeping it so long,"
Other cast members of Monarch include Academy Award winner Susan Sarandon, Albie Roman, and Beth Ditto, among others.
Furthermore, Deadline described the show as a story following the Romans, America's first country music family.
"The Romans are headed by the insanely talented, but tough as nails Queen of Country Music Dottie Cantrell Roman (Sarandon). Along with her beloved husband, Albie (Adkins), Dottie has created a country music dynasty. But even though the Roman name is synonymous with authenticity, the very foundation of their success is a lie,"

See Also
Additionally, they said,
"And when their reign as country royalty is put in jeopardy, heir to the crown Nicolette "Nicky" Roman (Friel) will stop at nothing to protect her family's legacy, while ensuring her own quest for stardom,"
Pascual's recent screen credits include the films Boyette: Not A Girl Yet and I'm Ellenya L.
In addition, he makes appearances in the ABS-CBN variety show ASAP Natin 'To.
Congratulations on landing this role, Inigo! Good luck on the show and continue showcasing your talents!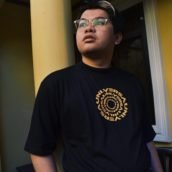 Kobe Adam Joshua Laurena
Kobe Adam Joshua Laurena is a writer who loves to tell stories from the perspectives of different people and everyday life. Apart from the pen, he loves to pick up the lipstick to transform into his frustrated drag persona: Anita Good Lovin'. He aspires to combine his love for writing and drag by creating a novel, short story, or screenplay about local drag queens in the future. He also has an obsession with sitcoms, women's pro-wrestling, and Funko Pops.