Danes Cheese has come back with yet another commercial with dry humor. This time, one Danes don't stop with one mascot… but, four.  Last year, Danes Cheese with Real Bacon Bits mascot made his debut in a series of advertisements. Who can forget his deadpan delivery of punchlines – and of course, his favorite response, "Bacon yan"?
Danes Cheese puts on edge of your seat with a hilarious new ad
As it turns out, a whole Danes Cheese cinematic universe featuring their new flavors. Of course, this includes Herb & Garlic, Chili Cheese, and Sweet & Creamy Cheese. Looks like Daddy Danes has a lot of explaining to do… You can watch the family reunion unravel, plus how Mommy Bacon reacts here.
What starts out as nothing more than a regular grocery run, ends up in a funny altercation as the Danes Cheese children bump into their long-lost father with his real family in a parking lot.
Coincidentally, each of the children has a tattoo of his mother on his back—a subtle nod to the first ad.
This might not be the last we'll hear from the family, so stay updated by following the brand on Facebook. Better yet, try all four different Danes flavors now! The brand also became available on Lazada and Shopee.
The Danes film series came about in collaboration with independent ideas agency,

GIGIL

.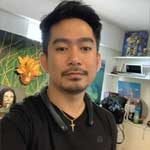 Josh Austria
Aside from being a businessman, Josh Austria has been working in PR and media industry for more more than a decade. From his years of experience as the Marketing and Advertising Head of Village Pipol Magazine, he has built strong relationships with creative people, brands, and organizations.