TikTok partnered with the Department of Tourism to launch the #SarapMagingPinoy campaign, promoting local cuisine across the different channels. This campaign aims to encourage more locals to celebrate Filipino pride s they prepare and share the best dishes from all over the country on TikTok. Aside from that, it also promotes the love of native cuisine among its locals. It also focuses on presenting users with the unique experience of exploring the Philippines through diverse food content, highlighting this as an integral part of our culture.
Cook on TikTok and Tell The World #SarapMagingPinoy
Prepare and share the best dishes from your city on TikTok, and you could win awesome prizes!
One of the best, and most enjoyable ways to learn about a culture is through their food. The tastes, textures, and flavors of a country's cuisine reflect its rich heritage and history. It also tells their own unique tales about every place, its people, and way of life. Here in the Philippines, we take such pride in our food that other countries recognize us as a culinary hub. Apart from being known as sociable people who love to gather around the table with friends and family, Filipinos also like to share their gastronomical delights online.
As TikTok's official partner, the Department of Tourism believes in the great potential of the Philippines as a center of gastronomy. Owing to its rich cuisine, it also reflects our history, cultural diversity. Aside from that, it also reflects stories of our destinations, and way of life. Meanwhile, community food mapping or associating food with culture and a specific destination, a more compelling story for travel is created. Especially, with food as an integral part of a traveler's journey.
Celina Tan, TikTok PH Marketing Manager said,
"On TikTok, hundreds of Filipinos have joined countless other foodie creators from all over the globe, who post about their native cuisine. Our food vertical showcases the history of our food, educating the new generation. And, others outside of the Philippines on how diverse and rich the Philippine culture really is. Because of this, browsing through the variety of food content on the platform can almost seem like a virtual culinary tour."
According to Tourism Secretary Bernadette Romulo-Puyat,
"Food has been cooked using recipes passed down through generations, creating cuisines distinct to each region, and flavors unique to each province. And because food has come to define a particular place, it has called out to visitors seeking to try new dishes and experience different tastes. The art of eating has become a powerful motivator for traveling and we, at the DOT, will make Filipino food an integral part of the traveler's journey."
From June 1 to 15, 2021, users can take part in the #SarapMagingPinoy campaign by posting recipe videos that feature the best dishes from their cities.
Videos must contain a short introduction that provides viewers with information on the dish and its city of origin. The video intro should also include the campaign's thematic messaging of showcasing Filipino pride and mention the key line, Sarap Maging Pinoy. In the video caption, users must include the hashtag #SarapMagingPinoy. Along with a hashtag that indicates your city of origin, using the format #Lutong(city). For example, #LutongCebu or #LutongDavao.
Celebrate Pinoy pride, and share your best #SarapMagingPinoy dishes on TikTok. To learn more, visit the #SarapMagingPinoy campaign page on TikTok.
Download TikTok on your

iOS

and

Android

devices today.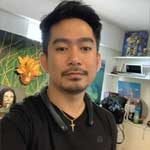 Josh Austria
Aside from being a businessman, Josh Austria has been working in PR and media industry for more more than a decade. From his years of experience as the Marketing and Advertising Head of Village Pipol Magazine, he has built strong relationships with creative people, brands, and organizations.