Billy Crawford and Coleen Garcia celebrate son's 1st birthday with cowboy-themed photoshoot
Billy Crawford and Coleen Garcia marked their son Amari's first birthday through a delightful photo shoot.
The family donned Western-style outfits in their shoot, consisting of cowboy hats, boots, a fringe jacket, and plaid shirts.
The photos were posted on the Instagram account of Billy last Wednesday, September 8, and wrote,
"Since my mom and dad can't make it to Amari's birthday, had to shoot a cowboy-themed outfit. Praying that one day my dad will be able to meet his grandson. Howdy from the Crawfords."
On the other hand, Coleen began counting down the birthday of Amari by showing adorable photos of them playing as a family.
She posted the photos of her, Billy, and Amari on Instagram last Tuesday, September 7, while writing,
"This is how we run away from bad vibes."
Billy and Coleen got married last April 2018. Their relationship had been going on for two years before he proposed to her last December 2016.
By water birth, their son Amari was born last September 10, 2020.
You look so cute, Billy and family. What a shoot! May Amari have a happy and enjoyable birthday!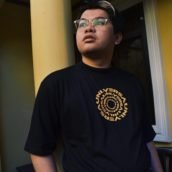 Kobe Adam Joshua Laurena
Kobe Adam Joshua Laurena is a writer who loves to tell stories from the perspectives of different people and everyday life. Apart from the pen, he loves to pick up the lipstick to transform into his frustrated drag persona: Anita Good Lovin'. He aspires to combine his love for writing and drag by creating a novel, short story, or screenplay about local drag queens in the future. He also has an obsession with sitcoms, women's pro-wrestling, and Funko Pops.