Angkas proposes using a plastic shield between drivers and riders
As work resumes for most of us during GCQ, the challenge for transportation arises. We have seen on the news and social media that many Filipinos lacked means of transportation to work. No jeepneys are operating and the government still limits bus routes. As a result, a lot of them chose to ride bicycles as this is a safer and cheaper option. But what about motorcycles?
Angkas driver should sanitize the shield every now and then
On the other hand, the Ride-hailing app Angkas is proposing a solution so that ordinary citizens can resume riding motorcycles. Angkas presented an idea of using a plastic shield between the rider and the passenger. This will serve as protection for them in case the government allows back riding amid pandemic.
According to Angkas chief transport advocate George Royeca, the shield is made of plastic and the driver should disinfect it every ride. He also suggested that riders should bring their own helmet. This is necessary in order to prevent the spread of the dreaded virus.
As you can see in the photos, the plastic shield is attached to the back of the rider. Moreover, the plastic shield's height is not much higher than the rider's head since it can be blown by a strong wind when traveling. The shield also includes a handgrip for the passengers.
In a report, the Inter-Agency Task Force for the Management of Emerging Infectious Diseases and the Department of Health is studying this proposal from Angkas. They are discussing the level of safety of using protective health equipment that will allow the return of the ride-hailing company.
Do you guys think this is a brilliant idea? Will you use Angkas if the government approves this proposal? Share with us your thoughts!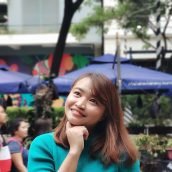 Queenie Lastra
Queenie Lasta got her bachelor's degree in Communications Research from UP Diliman. In her free time, she likes to read thriller novels, psychology books, and mangas. She believes in the importance of grit, hard work, and passion to become a great writer in the future.