Upcoming Netflix series My Name revolves around the role of rising South Korean actress Han So-hee as Yoon Ji-woo. Her character changed her name as she joins a drug cartel led by Choi Moo-jin (Park Hee-soon).
Ji-woo tries to investigate and avenge her father's sudden death in this series. She later joins the police force as a mole for the crime group, where she is partnered with detective Jeon Pil-do (Ahn Bo-Hyun).
How did Han So Hee and other cast members prepared for My Name?
Recently, Han So Hee stirred up the Internet with her photos as an undercover agent in the official trailer of My Name. She looked so fiery, strong, and determined in those snippets. During the press conference for this upcoming Netflix show, Park Hee-soon revealed that So Hee began her training one month ahead of them.
Although the actress felt so much pressure during her martial arts training and the actual action scenes, she expressed her dedication and passion.
"I would describe the action in My Name as that of risking their lives. The action
scenes in My Name are very desperate. They are trying to protect their lives and survive."
Also, So Hee recounted how she exercised a lot but did not have any dietary restrictions. She can do 30 sit-ups in one sitting and even learned kickboxing recently. The My Name lead gained 10 kilograms from the weight she had during The World of the Married.
A few extra pounds on So Hee is still acceptable. She still looks so slim on camera, and perhaps the weight she gained made her look more fit than ever.
The Korean star also told the press about her personal views about her character, Yoon Ji-woo, and how it differs with Hyejin.
"Jiwoo is everything. That's the kind of character she is. Jiwoo has to witness her
father's death at a very young age, and she has no choice but to go on this path. I feel for her,
but at the same time, I admire her determination and the strength that she carries. Hyejin is
more strategic and less emotional than Jiwoo."
A friendship formed during the intensive months of training
So Hee's leading man Ahn Bo Hyun added how he took videos and shared them with other cast members because they have to be in harmony all the time. He said,
"Thanks to the two months of training, we were able to easily develop a sense of camaraderie."
Han So Hee agreed that the cast was able to form a friendship, and she was able to make it work with Bo Hyun in terms of their tandem and chemistry. Yet, the cute thing here is, she said that they were smiling a lot on set more than she had thought.
Park Hee-soon also told the press how before they started training, the cast grabbed drinks together.
"We worried and checked on each other. Hak-ju takes time to warm up to people, but once you get to know him, he's so much fun. I think Jang Yull is the dark horse, the hidden gem, and I believe he will make a name for himself through My Name."
Carefully-executed but realistic action stunts during fight scenes
Director Kim Jin-min expressed his gratitude not only to My Name's cast but to the martial arts directors behind the scenes. He said that they did such an excellent job so the actors were able to feel comfortable while filming. He added that the directors also ensured everyone's safety.
"The cast and the actors could have gotten hurt, but because the amazing martial arts directors and stunt actors did so well, all of us were able to film without worrying too much about our safety. The public is well aware of how action sequences are made now. I feel very proud because our team did a lot more of the action than what you see in other projects out there. I'm very thankful to the cast."
Upon attending the press conference, we saw how much effort all of the cast, actors, directors invested to do an amazing job in My Name. We are truly excited to witness the action-packed and emotional scenes on the show as it premieres on Netflix this coming October 15, 3 PM.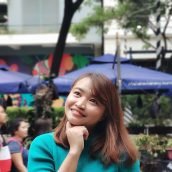 Queenie Lastra
Queenie Lasta got her bachelor's degree in Communications Research from UP Diliman. In her free time, she likes to read thriller novels, psychology books, and mangas. She believes in the importance of grit, hard work, and passion to become a great writer in the future.