4th VP Choice Awards: Adie, Janine Berdin's Mahika named OPM Song of the Year
Adie and Janine Berdin's Mahika is the OPM Song of the Year of the recently concluded VP Choice Awards (VPCA) 2022.
VP Choice Awards acknowledges the reigning finest from the travel, lifestyle, entertainment, technology, and business industries. The 2022 installment welcomes the theme Supernova: Our Brilliant Burst of Light. It signifies embracing one's burgeoning blast after an era of compromise and signals the return of the much-anticipated awards night.
Meanwhile, nominees for the 4th VP Choice Awards are examined based on these criteria: fifty percent comes from online voting, thirty percent from the editorial team's decision, and twenty percent from the expert panel.
Furthermore, the board of judges comprised showbiz-lifestyle YouTuber Albert Bryan Abelido, orthodontics expert Dr. John Alex Glenn Crespo, and seasoned blogger Justine Montas. Likewise, actress-entrepreneur Kyra Custodio, celebrity hairstylist Mark Rosales, market researcher Martin Penaflor, and gadget coach Peter Jan Icago joined the panel.
Thus, the combined decision of the public and deliberation of the judges led to determining the conquerors of almost 100 accolades presented for the 4th VP Choice Awards.
Adie, Janine Berdin's Mahika named VPCA 2022 OPM Song of the Year
Through OPM Song of the Year, VPCA acknowledges the outstanding Original Pinoy Music hit that best celebrated Filipino sensibilities. The song should also consistently take over local and international charts for its catchy tunes and fresh lyrics.
At the VPCA awards night, Mahika by Adie and Janine Berdin was named the OPM Song of the Year. The track battled Zack Tabudlo's Asan Ka Na Ba, Sarah Geronimo's Dati-Dati, and Morisette Amon's Gusto Ko Nang Bumitaw. Moira dela Torre's Kumpas and Ben&Ben's Paninindigan Kita were also among the nominees.
Prior to their collaboration, Adie and Janine were each successful artists on their own. Adie is known for his heartwarming masterpieces, such as Paraluman and Tahanan. As for Janine, she rose to fame after finishing as the grand champion of Tawag ng Tanghalan season two.
We are sending our magical congratulations, Adie and Janine!
Indeed, it has been an exciting journey as we emerged from the shadow, erupted, and championed our luminous explosion. Thus, we owe it to you, pipol, for making this event possible. See you in our next edition!
The 4th VP Choice Awards is presented by Casino Filipino while co-presented by itel and FLEEK, respectively. Meanwhile, Evnia, Tea Ni Juan, Chow Panda – Dimsum, SIP water, SMPO Philippines, and Bayong Republic are our sponsors.
Collaborators Jhay Layson, True Creators Studio, TEAM TYRONNE, Joey Peria Event and Floristry, Proshot and Philgifts.
The following are our media partners: The Manila Times, BusinessMirror, BusinessWeek Mindanao, Mindanao Daily News, The Market Monitor, BMPlus, PILIPINO Mirror, Cagayan de Oro Times, The Post, Maharlika TV, WhenInManila.com, Blogapalooza, GIZGUIDEPH, Orange Magazine TV, Iconic MNL, and A2Z.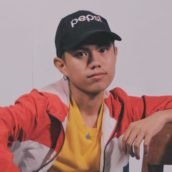 Renzneil Robles
Renzo is an introvert who prefers to do things at his own pace. Unlike most writers, he reads lazily. Watching Korean dramas at night is his constant source of comfort. Although oftentimes commended for being outspoken, he speaks better through writing than with his words.