Celebrities giving fans a glimpse of their personal lives would be one of the positive things that come from social media sites like TikTok. The app continues to make it safe for actors, musicians, and influencers. That way, they can creatively express themselves. Celebrity creators get to share authenticity and real-life with their followers. TikTok remains easy and fun to use with its easy-to-use editing tools that make videos extra attractive and creative.
Celebrities on TikTok who are actually rockstars in the kitchen
Fans enjoy seeing updates from their favorite celebrity creators. Of course, this would usually include daily fitness routines, outfits, the food they love, and even their hobbies. A number of famous creators even show prowess in the kitchen, as seen through their TikTok posts. Some of them are actual chefs. Meanwhile, others simply love to cook and happen to be good at it. Among the must-follow kitchen-savvy stars on the app are Marvin Agustin, KC Concepcion, Erwan Heussaff, and Ninong Ry.
Marvin Agustin
https://www.tiktok.com/@marvin_agustin/video/6925348975176453378
Actor turned chef and restauranteur, Marvin Agustin, is so passionate about food that he actually studied culinary arts to become a professional, hone his taste, and elevate his skills in the kitchen. His TikTok content is filled with food, original recipes, and lots of cooking. Here, he shows followers how to make a delicious and healthy dish, Chopsuey with Tocino.
KC Concepcion
https://www.tiktok.com/@heykace/video/6944682590116924673
KC Concepcion may have become independent at a young age while living and studying in Paris, but this multi-talented lady only learned how to cook during quarantine. She was living by herself when lockdown happened and decided it was time to figure out how to prepare her own meals at home. As she learned new recipes, her interest in cooking grew even more. In this video, she creates her own version of Asian chicken curry.
Erwan Heussaff
https://www.tiktok.com/@erwan/video/6931162038802615553
Erwan Heussaff takes cooking content to a whole new level. He breaks down dishes expertly, prepares them masterfully, and presents them beautifully in each video that he shares. The man behind the popular website, The Fat Kid Inside, Erwan's love for food and cooking has paved the way for him to connect with so many fans around the globe. On TikTok, he shares his favorite eats and food discoveries, along with recipes, such as this one for Spicy Garlic Prawns.
Ninong Ry
https://www.tiktok.com/@ninongry/video/6848675416564157698
Ryan Morales Reyes, popularly known as Ninong Ry, is a social media celebrity chef, and an internet sensation made famous for his refreshingly light and funny cooking videos. Ninong Ry, who has enjoyed eating ever since he was a kid, now shares his own mouthwatering kitchen creations on TikTok. This video shows his delicious version of Sizzling Bicol Express.
Check out your favorite cooking celebrities on TikTok, and learn how to prepare gastronomic delights today! Download the app on your

iOS

and

Android

devices to get started.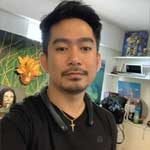 Josh Austria
Aside from being a businessman, Josh Austria has been working in PR and media industry for more more than a decade. From his years of experience as the Marketing and Advertising Head of Village Pipol Magazine, he has built strong relationships with creative people, brands, and organizations.