10 Animated Movies Recommended for Kids
Animated movies are a good source of entertainment, especially for young viewers. From the unique characters, colorful palette, and high-quality animation, no wonder it is prevalent in today's generation. Not only is it enjoyable for everyone, but there are also great life lessons and discoveries that one may learn through watching. Although everyone loves animated movies, not all of them are recommended for children or younger audiences.
These movies are more than just a source of entertainment or a way to pass the time. One may not realize it, but a movie can profoundly impact a person's beliefs and influence behavior. With that, it is essential to carefully choose what movies you can let your kids watch, mainly since children are easily influenced by what they see on television or in real life.
So if you are looking for some movies that are great for children, here are the ten animated films you should show your kids!
Inside out
First on the list is the movie from Pixar called Inside out, a heartwarming film revolving around an eleven-year-old girl. In the movie, Riley show how she deals with her emotions. This movie teaches us how to handle our most powerful emotions better. Also how our every action may affect those around us. In this movie, we will witness her life experiences as she adjusts to the new environment and the rollercoaster of emotions that comes with it.
Coco
Second on the list is another one of Pixar's most popular animated films, Coco. It talks about the importance of remembering loved ones who pass, valuing tradition, and how music connects people. To add, it also showcases a bright and vibrant vibe which is aesthetically pleasing to the viewers. It is a film about a child's desire to become a musician despite his family's strong hatred for music. A movie that shows what unconditional love is in its purest form.
Encanto
Encanto is another film that revolves around the importance of family. The responsibilities and expectations a person must shoulder, and the fear of having to disappoint everyone. The story unfolds around the Madrigal home, where every family member possesses magical powers called gifts. However, there's a certain Madrigal who seems to be the only one without a gift. Furthermore, this is a journey of finding one's worth and role in a family full of gifted people.
Moana
An inspirational movie about the main character's adventure as she tries to save her people and home from destruction. A film that promotes self-empowerment, determination, and how believing in yourself can make a significant change. Although the main character faces numerous challenges, her love for and desire to protect those she cares about propels her forward.
Finding Nemo
Here, the characters do not revolve around people but instead use different sea creatures with human-like personalities and thoughts. It's a touching story about a parent going to great lengths to ensure their child's safety and well-being. It is without a doubt one of the most popular animated movies, appealing to both young children and adults.
Cloudy With a Chance of Meatballs
The movie focuses on the life of Flint Lockwood, an oddball inventor. Despite his desire to become a great scientist and be known for his work, everyone in town sees him differently. He was seen as someone who only brings disaster. Along the way, one of his inventions turns out to be the key to his acceptance by the townspeople.
Brave
Set is in the Scottish Highlands, where the king and queen rule over everyone. Also, the rich history of the kingdom and its neighboring clans is highly valued. When Merida, the main character of the story, refuses to be betrothed by defying an old rule and tradition to the point where she seeks help from an old witch to change her fate. She faced a great obstacle that may indeed change her life forever. Moreover, this story is about how a girl mends broken bonds with her astonishing bravery and determination.
The Lorax
This animated film tackles the huge importance of trees in our lives and the function they serve in our environment. It is a movie that excellently showed the message of appreciation for our mother nature, clean and breathable air, and a home planet that we always seem to take for granted. It is full of life lessons, and the movie has vibrant colors and themes.
Pinocchio
This film tells the story of how a wooden puppet became a real living boy. The plot of this film revolves around Pinocchio learning how to act, live, and behave like a human. It is also about a father's unconditional love for his child, despite the fact that they are not blood-related.
Wreck-it Ralph
The story revolves around the characters' lives inside the video games in a small arcade shop. Ralph, the main character of the film and the villain inside his game, wants to stop being the bad guy. To add, he wants to earn the respect and admiration of the game's other characters. In his quest to become a true hero, he meets friends who will soon teach him the true significance of his role as a villain in the game "Fix-it Felix, Jr."
In summary, animated films are a massive part of our lives. It also heavily impacts how we view real-life situations or scenarios. They are not only a means of entertainment but also bear moral lessons that one can apply and adapt as one moves forward in life. Besides the movies listed above, there are numerous animated films that one can enjoy and watch with younger audiences. We must carefully select what movie we will let our kids watch, so it can be a great example and where the characters can be role models for them.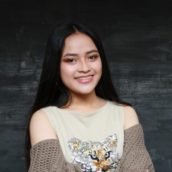 Eslyn Rose Ramos
She is an aspiring individual who loves to share her thoughts and feelings through writing. She aims to be able to make use of her knowledge and skill-sets to their full potential and, at the same time, acquire new learnings throughout her journey of self-growth and discovery.