Xyriel Manabat on objectifying women: 'Hindi ang body type ang mag-aadjust kundi utak niyo'
Photo | Xyriel Manabat (Instagram)
Young actress Xyriel Manabat called for stopping the objectification of women after opening up about her encounters on the matter.
On April 28, a Star Magic video featured Xyriel explaining how she became the subject of objectification. The experiences are particular to her online photos targeted by toxic netizens. Aside from unsolicited comments regarding her body, she often received vulgar remarks.
Additionally, Xyriel narrated that some social media users intentionally manipulated her photos to have sexual undertones. Taking inspiration from her struggle, she fearlessly spoke out in support of putting an end to the demeaning cycle.
Xyriel Manabat calls for stopping objectifying women
For Xyriel, sexual harassment in digital spaces is an issue that must not be neglected. In fact, she revealed that she did not only take legal steps as a countermeasure. She has also sought experts to recover from trauma due to the experience.
"Binabastos po kasi nila ako and ino-objectify. Sine-sexual assault ako in a way. Hindi po yun dapat pinapalagpas. Gumawa po kami ng legal action and nag-therapy po ako sa mga ganun kong nababasa and nakikita. [Kinailangan] kong i-prioritize ang mental health ko."
Moreover, the Dirty Linen star appealed to the need to improve one's mindset instead of telling others to adjust. Xyriel emphasized that body type is not a ground for sexual misconduct.
"Kung ano pong nakikita niyo, scroll  na lang. Huwag na po kayong mag-comment [kung] maaari. Huwag niyo pong i-wish na bastusin dahil sa body type. Hindi kasi dun nababase kung babastusin or what. Hindi body type ng tao ang mag-aaadjust, kundi 'yung utak niyo."
Xyriel further affirmed that objectifying people regardless of gender will always be wrong.
"Minsan, [iyong] iba po, hindi kasing-tibay ng loob ko. Hindi kasing-lakas ng loob ko para lagpasan 'to. Baka pwedeng huwag niyo po akong manduhan pagdating sa katawan ko."
Watch the full video below: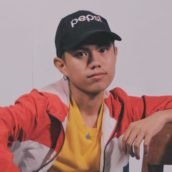 Renzneil Robles
Renzo is an introvert who prefers to do things at his own pace. Unlike most writers, he reads lazily. Watching Korean dramas at night is his constant source of comfort. Although oftentimes commended for being outspoken, he speaks better through writing than with his words.