Award-winning Filipino director Erik Matti and trailblazing streaming platform UPSTREAM PH bring you four Bizarre tales about how the world can drive you RABID. 
On its first anniversary, Upstream PH is presenting a new Upstream Original.
It brings the tales of the pandemic to life through a bizarre yet quirky anthology film titled RABID.
Directed by the award-winning Erik Matti, RABID is a collaboration between movie powerhouses Regal Entertainment and Reality MM Studios. 
If you are a fan of the anthology series Black Mirror and Twilight Zone, you will love RABID's twisted fables of the pandemic.
The four episodes take inspiration from the current reality of fear, danger, loss, and uncertainty. 
Also, director Erik Matti said the film took inspiration from what everyone experienced during the pandemic lockdown. 
"We almost went crazy on last year's lockdown. We made this film to capture that feeling of helplessness that bordered on insanity." 
Also, RABID features a cast of rising stars and notable theater veterans being given the spotlight on the big screen.
Cast members include Ameera Johara, Ayeesha Cervantes, Brace Arquiza, Cheska Diaz, Donna Cariaga, Jake Macapagal, Jay Glorioso, Kent Gonzales, Pam Gonzales, Ricci Rivero, Ube Lola, Vance Larena and Ynigo Delen. 
With an intriguing storyline and a fresh cast, RABID is a film that is worth watching with friends and family.
RABID premieres on November 12, 2021 on Upstream PH.
Visit Upstream's social media pages and website www.upstream.ph to learn more about the film.
Lastly, get your tickets through Gmovies at bit.ly/UpstreamRabid.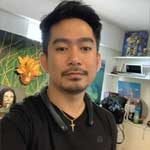 Josh Austria
Aside from being a businessman, Josh Austria has been working in PR and media industry for more more than a decade. From his years of experience as the Marketing and Advertising Head of Village Pipol Magazine, he has built strong relationships with creative people, brands, and organizations.