The boys from St. Wolf are on a roll with their back-to-back releases and the pack is in for a treat, especially with the new music video Luhang Umaapaw.
St. Wolf tells the story of captivity and confusion in the new MV Luhang Umaapaw
Directed by the four-piece rock band and REIKA, Luhang Umaapaw focuses on Amala's story of captivity and confusion. Then, she wakes up caged in an isolated facility for reasons unknown to her. All she knows is that she is the subject of public execution. With three seemingly important figures inside a television, the faceless people also gather around her to witness the execution first hand.
Check out St. Wolf's animated music video here!
St. Wolf brings cyber-esque electronica sound in new single TLKDN!
Rising rock band St. Wolf, with members: KL Dela Cruz, Karlo Maglasang, Vince Lucero, and John David Sadural, are hyping up the pack with their newest track TLKDN. Regarding the past releases take on future-cyber-esque electronica, TLKDN is another angle basically, on how far the band can push the rock genre to.
Having stated that, the song talks about the hesitation of letting go of something relevant; inner conflicts, disposition. And, admittance toward failing attempts, the sentiment of the song echoes about not going back to what has already been let go. But to move forward instead. TLKDN is available on Spotify, Apple Music, YouTube Music, and other digital streaming platforms under Warner Music Philippines.
Watch St. Wolf's TLKDN official lyric video here:
Don't forget to follow St. Wolf on their social media accounts for more updates!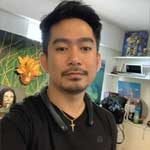 Josh Austria
Aside from being a businessman, Josh Austria has been working in PR and media industry for more more than a decade. From his years of experience as the Marketing and Advertising Head of Village Pipol Magazine, he has built strong relationships with creative people, brands, and organizations.