Song Joong-ki reveals marriage with pregnant Katy Saunders
Photo from Kepoper (left) and Preview (right)
South Korean actor Song Joong Ki announced his marriage to girlfriend Katy Louise Saunders, revealing they are also expecting a child.
On Monday, the 37-year-old star wrote a letter in his official fan cafe to reveal the news. In his message to his supporters, he penned:
"Hello, this is Joong Ki. I wanted to share the happiest and most important promise in my life with you all. I have promised Katy Louise Saunders, who has been supporting me and sharing time together, to spend the rest of my life (with)."
Song described Saunders as someone kind-hearted and who has led a passionate life. He also said she is a "wise and amazing person" who he admires. He noted that the woman inspired him to become a better person. The actor added:
"Naturally, we both wanted to make a happy family. We have been trying hard to keep each other's promise and gratefully, we have welcomed a precious life between the two of us. So today, we have registered our marriage as a couple, based on our deepest love and trust."
Song thanked his fans, adding he is now looking forward to living a life in the same direction with his new wife. He promised to be more passionate and responsible to become a better actor and person as his admirers wish.
Song Joong-ki is known for his series, "Reborn Rich (2022), Vincenzo (2021), and Arthdal Chronicles (2019). In 2016, he headlined the drama Descendants of the Sun with South Korean actress and ex-wife, Song Hye-kyo.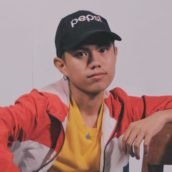 Renzneil Robles
Renzo is an introvert who prefers to do things at his own pace. Unlike most writers, he reads lazily. Watching Korean dramas at night is his constant source of comfort. Although oftentimes commended for being outspoken, he speaks better through writing than with his words.