Meze Wrap in Boracay: A Must-Try Mediterranean Delight
MODEL: From left Jayroh Lagurdia and Dr. Marko Ruste (General / Cosmetic Surgeon)
Boracay is known for its beautiful beaches and vibrant nightlife, but it also boasts a diverse culinary scene. One restaurant that stands out among the rest is Meze Wrap, a Mediterranean-inspired eatery that offers a unique dining experience.
Meze Wrap is situated on the main road of Station 2, just across from Lake Town and in close proximity to D'Mall. The restaurant occupies the third level of a three-story building that's painted in bright, sunshiny yellow. The building is adorned with a spiral staircase and colorful bougainvillea that add a touch of charm to the facade.
As you step inside Meze Wrap, you'll be greeted by a cozy and relaxed atmosphere. The staff is friendly and welcoming, ensuring that you feel at home from the moment you walk through the doors. The interior is tastefully decorated with colorful tiles, wooden accents, and plants that create a warm and inviting ambiance. Whether you're looking for a quick bite or a leisurely meal, Meze Wrap is the perfect spot to enjoy delicious Mediterranean cuisine in a charming and comfortable setting. Sitting near the balcony offers great views of Balabag Lake from up high.
If you're looking for a delicious and satisfying meal on Boracay Island, then Meze Wrap is definitely worth checking out. This cozy Mediterranean restaurant offers a variety of tasty dishes that are sure to please your taste buds.
Start off with their Meze Fries, which are crispy on the outside and soft on the inside with a unique flavor that sets them apart from regular fries. Wash them down with a refreshing Calamansi Iced Tea, although some may say it's reminiscent of the classic Wendy's Iced Tea, it stands out on its own as a delicious and refreshing drink.
But the real star of the show is the Grilled Pork Belly. This dish is grilled to perfection with a mouthwatering BBQ flavor that will leave you craving more. It's so tender that you won't even need a knife – just poke it with a fork and it falls apart. One serving is enough to fill you up, but it's so delicious that you'll probably want to order another one.
For the main course, try their Kebabs, which come in a variety of flavors such as such as chicken, beef, wings, squid, pork, kofia (minced beef & pork), tofu and vegetable, and are served with your choice of buttered rice or flatbread. Every skewer is perfectly grilled and seasoned, and the ezme salsa, Mediterranean slaw, and pickled cucumber, onions, and chilis on the side make the flavors even more vibrant.
Kalamar Platter is another dish at Meze Wrap that shouldn't be missed. Trust me, you won't be disappointed.
Overall, Meze Wrap is a fantastic restaurant that offers delicious and authentic Mediterranean cuisine. The food is fresh and flavorful, and the prices are reasonable, making it an excellent choice for a casual meal or a quick bite. If you're in Boracay and looking for a tasty and healthy meal, be sure to check out Meze Wrap!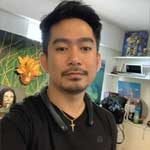 Josh Austria
Aside from being a businessman, Josh Austria has been working in PR and media industry for more more than a decade. From his years of experience as the Marketing and Advertising Head of Village Pipol Magazine, he has built strong relationships with creative people, brands, and organizations.