A glowing sea color mixture of green and blue, soft white sand, and fresh breeze. That is Boracay. During the summer, Boracay is one of the most visited tourist destinations in the Philippines. In 2016 alone, Boracay was second in the "world's best beaches."
So when my sister mentioned that she bought "Boracay tickets," I secretly packed right away.
I immediately wondered what we were going to do on that island of pleasure. It was mid -November when we planned it. We stayed there from 30th November to 3rd December 2017.
Coincidentally we had just finished our exams then. I also really needed an intense break after piles of school activities. Precisely right, Boracay became the rest my whole body, personality, and mind demanded.
We were just at the airport, and my heart kept pounding with excitement.
It was afternoon when we reached the island of Boracay. We immediately checked in after some necessities that had to be taken care of while in the terminal.
Upon arrival, I was amazed at the beauty of our hotel. We booked a "Queen Suite" at the Summer Palace Hotel, and I was stunned at how nice the place was.
In the middle of the "Greek-themed" buildings, there is a large swimming pool. A pool in which you will stop and look up while swimming because you can see the light of the stars in the sky. Exhausted, we could not go around at first. We ended up sleeping in a huge and very soft bed.
On our first morning in Boracay, it was there that I realized the reasons why people loved Boracay.
Boracay was a melting pot of people from different races and cultures all over the globe. 
You will feel in the atmosphere that Boracay is a place where you can be your true self. There are no scrutinizing eyes following you. There is also NO ONE rude to catcall you, even if everyone was scantily clad. 
Unlike what I was used to in Manila, you can let your guard down in Boracay.
In Boracay, people have no hidden motives. They accept you for who you are. You can reinvent yourself!
 The local people there are kind and charming. You will also notice the uniform brown color of the people due to sunburn, whether Filipino or foreign.
Concerning the area's state, Boracay's coastal row is noisy due to the number of restaurants and vendors.
The bay is also further enlivened by the different colors of light from the lights and pennants. Just the view on the coast is fantastic already. How about the sea itself?
Like what was promised in photos and reviews, you will be captivated at your first glance at the ocean. This is the most essential part of our journey. Boracay's vast and clean sea was all true. We wouldn't want to go out of the water anymore if it weren't for the adverse effects of intense sunlight on our skin.
While at sea, all the illnesses, fatigue, and loneliness drift in the water farther and farther away from you. Finally, I have reached the sublime state of happiness and relaxation!
There is also no need to worry about the clutter and dirt caused by people. Boracay is very clean then because people were disciplined.
In Boracay, there seems to be a prevailing friendly coexistence. 
There is also a good relationship with one another regardless of your race, religion, or skin color. Everyone is there for their own pleasure and personal peace.  
On the second day, we had the opportunity to visit Puka Beach. When we arrived, we were amazed at the beauty the place had to offer.
The place looked like paradise! The water was very clear, and the waves were super strong! 
Puka Beach got its name from the puka shells crushed and turned into the sand there. The sun is lovely on the skin and it doesn't burn. The breeze there is also very nice. My lungs really felt the clean air, unlike the blackened smoke I inhale every day in Manila. I didn't want to go back! I loved Boracay more because of Puka Beach.
When the day of our departure came, I had this feeling that I never wanted to leave. 
I didn't want to go back to the dirt, fatigue, and stress brought about by Manila.
Yet, I had to accept that and go back to the reality that my daily life would not be like I experienced. So, I sadly packed up and bade farewell to the beautiful island of Boracay.
Our family still has lots of places we want to go to someday. We pray to God that it will all be possible. I just need to save up money! I swear, I will return to Boracay one day. Maybe when everything is okay and when the pandemic ends.
Wait for me, Bora. COVID-19, it's time you get cancelled!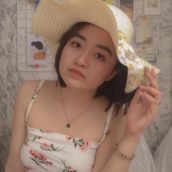 Llana Cabajar
An aspiring adventurist who aims to travel the world someday. Weird and poetic, a great friend for problematic rants and deep talks about life in general. Hit me up on my socials!