MassageMNL celebrates 3 years of wellness
Time flew fast for MassageMNL as it remains to be the premier brand for specialized home-service massages in the Philippines.
As an industry pioneer, MassageMNL continues to give loyal customers the best-quality services adhering to safety protocols for the pandemic. 
Striving for the best quality
In three years, MassageMNL launched their signature, myofascial and lymphatic drainage massage that has immediately gained popularity among its customers.
Their pre-natal, post-natal, and lactation massage also continues to help mothers in their journey. 
Janine Khazaie, founder of MassageMNL said,
"MassageMNL will continue to strive to give you the best quality home-service massages while making sure that we all keep safe during these unprecedented times. Though our safety protocols have been in place even before the  pandemic, we have intensified our rules to make sure that we follow the IATF and DOH",
All staff members are closely monitored in their staff house, daily temperature and health checks are done, a quarantine room is ready in case someone feels ill, they are all regularly tested and all fully vaccinated.
Each staff member knows they have to strictly adhere to safety protocols.
Also, it gives more confidence to its customers in booking their preferred service.  
MassageMNL also expanded to different areas.
They operate in San Juan, Pasig, Mandaluyong, Makati, Taguig,  Quezon City, Manila, Muntinlupa, Paranaque, Las Pinas, Cavite, Rizal, Caloocan, Navotas, Malabon and Valenzuela. 
They will soon be expanding to nearby provinces to cater to more people in need.
Janine added,
"It is bittersweet when we look back and realize how far we've come. From a few service areas, we are now in the process of expanding to provinces that has promising markets. We have social media followers from different places who's been asking for us to service in their areas and finally, we will be able to reach them,"
Expanding in different areas
In September, MassageMNL initially launched MNLtalks where they get experts to talk about topics about parenting, health, beauty, and wellness.
As they celebrate their anniversary this October, they continue the learning journey with free online fitness, cooking, and lifestyle classes on the MassagePH community on Facebook.  
The brand continued to innovate and adapt during the past year.
Previously, it launched Massage Bar as an answer to those who want to celebrate safely at home.
The special celebration service includes massages, manicures, pedicures,  facials, and even lash services.
Now, a new name will be under the brand's wings, offering loungewear and home items to make home more comfortable. 
Janine said,
"We've been expanding during the pandemic, first are the new massages, Massage Bar and now KHOZY. This is to address all the wellness needs and to have a whole spa experience at home",

See Also
The brand will be offering salt scrubs, candles, massage oils, room and linen mist, scrunchies, headbands, hair wraps, pajamas, and MassageMNL edition shirts and jackets.  
This October, MassageMNL is partnering with Ayumi, BLK Cosmetics, Belo, One Life, NurseryVan, Cycles, Cradles, Pink Lemon Wear, and Macao Imperial Tea for a grand giveaway.
Janine shared,
"This is one way for us to give back to our loyal customers,"
Their stories
Aside from all the new offerings, MassageMNL will be giving us a peek at the stories of their team members.
Janine shared,
"During the pandemic, we made sure that each of them makes a living. Our success is theirs too and we want to continue that despite the circumstances. Through the video series, we will be able to hear their heartwarming stories,"
There is no stopping MassageMNL and as it turns three.
October will be full of surprises and it will continue to serve high-quality products and services that will surely help you relax at home.  
Follow @massagemnl on Facebook and Instagram for updates!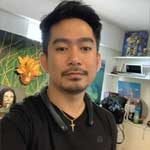 Josh Austria
Aside from being a businessman, Josh Austria has been working in PR and media industry for more more than a decade. From his years of experience as the Marketing and Advertising Head of Village Pipol Magazine, he has built strong relationships with creative people, brands, and organizations.