Lea Salonga expressed excitement to be part of the new HBO Max series Pretty Little Liars: Original Sin.
The Broadway star took to Instagram on Tuesday, September 28, to share the good news.
She wrote,
"The moms have descended upon the town of Millwood! And we have secrets and lies of our own (can't let the children have all the fun)! So excited to be part of the cast of Pretty Little Liars: Original Sin!"
Apart from Salonga, Sharon Leal, Elena Goode, Zakiya Young, and Carly Pope joins the cast of the upcoming show.
In a report from Variety, Salonga will give life to the role of Elodie, the "overbearing mother" of Minnie, played by Malia Pyles.
Furthermore, Variety described her character, saying,
"[She is an] overbearing mother who works overtime to protect her daughter from her childhood trauma,"
Moreover, the news outlet explained the series' synopsis, writing,
"The series is set in the present, 20 years after a series of tragic events almost ripped the blue-collar town of Millwood apart. Now, a disparate group of teen girls — the new 'Little Liars' — find themselves tormented by an unknown 'Assailant' and made to pay for the secret sin their parents committed two decades ago, as well as their own,"
Previously, the original Pretty Little Liars aired in 2010, bowing down after 7 seasons in 2017.
On the other hand, Salonga recently starred in the film Yellow Rose last 2019.
Moreover, she did iconic Broadway roles in the past, including Miss Saigon and Les Misérables, the former earning her a Tony Award for Best Actress in a Musical.
We cannot wait to see you on this show, Ms. Lea!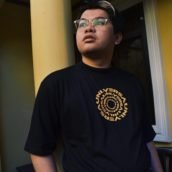 Kobe Adam Joshua Laurena
Kobe Adam Joshua Laurena is a writer who loves to tell stories from the perspectives of different people and everyday life. Apart from the pen, he loves to pick up the lipstick to transform into his frustrated drag persona: Anita Good Lovin'. He aspires to combine his love for writing and drag by creating a novel, short story, or screenplay about local drag queens in the future. He also has an obsession with sitcoms, women's pro-wrestling, and Funko Pops.