Janella Salvador sports new hairdo as 'Darna' concludes
Photo | Janella Salvador (Instagram)
Filipina singer-actress Janella Salvador on Monday debuted a new hairstyle as Mars Ravelo's Darna by ABS-CBN nears its end.
In the said program, Janella plays the character of villainess Valentina. She is the archrival to the titular role of Darna, played by actress Jane de Leon.
As Regina, the human alter-ego of Valentina, Janella is famed for her iconic long wavy hair with blonde highlights. A report from ABS-CBN News said the 24-year-old actress donned the style for one year and three months.
Of course, the stint is part of her commitment to owning the serpent character. Additionally, it only answers her earned admiration from the viewers for the portrayal.
Janella says goodbye to signature 'Valentina' look
After airing on television for almost six months, the creators of Darna recently confirmed the upcoming ending of the show. In fact, reports from the network cited that the production already wrapped up in late January.
With this, Janella has bid farewell to her distinct Regina Vanguardia coiffure. In exchange, she unveiled a refreshing makeover in a copper-orange dyed short hair. She took to Instagram to make the reveal, with the caption: "Entering her ginger era or somethin'."
As a result, Janella's new hair immediately made an online buzz. Fans and casual showered the actress with appreciation, saying the transformation was stunning.
Meanwhile, De Leon commented on the post. "That's mah girl!" she proudly penned, adding to more social engagement.
Mars Ravelo's Darna will end on February 10, airing on weeknights via Kapamilya Channel, Kapamilya Online Live, A2Z, TV5, iWantTFC, and TFC.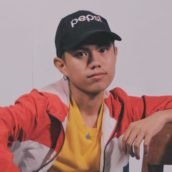 Renzneil Robles
Renzo is an introvert who prefers to do things at his own pace. Unlike most writers, he reads lazily. Watching Korean dramas at night is his constant source of comfort. Although oftentimes commended for being outspoken, he speaks better through writing than with his words.