Get in the mood for work with fun and retro Logitech gears at the Shopee 6.6 Sale
Rain or shine, maximize productivity and ramp up creativity when you work from home using hard-working but comfortable gadgets
Beat the boredom of remote working with fun and quirky high-performing gadgets that will make you want to fly through your deliverables all throughout the day. At the Shopee 6.6 Sale on June 6 to 8, choose Logitech's retro computer accessories and choose colors that match your mood or your aesthetic without compromising productivity and comfort.
These innovative, high-quality computer gears are not just efficient for work. They also provide amazing experience during online learning and collaborating, as well as during downtime – when listening to music or watching movies.
During the Shopee 6.6 Sale, select versatile Logitech computer accessories will be discounted by up to 48% at the Logitech Official Store in Shopee. Collect vouchers for more discounts and cashbacks of up to PhP100. Get shipping discounts of up to PhP38. Value-for-money bundles and freebies will also be available. Register purchases at http://logitechrewards.ph to get cashback rewards.
Jazz up your remote working lifestyle
Who says the work-from-home lifestyle is boring and ordinary? Make your home office more interesting and a creative haven with cute and vintage-looking gadgets such as the Logitech multi-device Pop Keys/Mouse Wireless Mechanical Keyboard and Wireless Mouse with Customizable Emoji. Coming in mist sand color, using this will feel like you are going back in time, as its mechanical scooped, round keys feels like using the old-school typewriter.
But this vintage-looking keyboard is packed with the latest innovations. It has 12 new FN shortcuts, including a snip screen. Its eight emoji keycaps can be swapped, mixed and matched.
The POP Mouse is also high-tech, loaded with SilentTouch Technology and high-precision tracking. The POP Mouse can track on almost any surface. It is quiet as a mouse, and the POP Mouse SmartWheel is capable of high-precision and speed scroll modes.
The POP Keys has up to three years of battery life while the POP Mouse has up to two years of battery life.
Modern and ultra-slim, the Logitech K580 Slim Multi-Device Wireless Keyboard comes in white color. It is the perfect companion for the mobile worker. Also, it is compact enough to carry around, and is silent when in use. It is also a multi-tasker, enabling users to use just one keyboard for two gadgets, thanks to its Easy Switch buttons.
Another pretty computer peripheral, Logitech's slim lavender lemonade K380 Bluetooth Multi-Device Keyboard is also a smart and cool team player. It can link to up to three devices – computers, tablets and smartphones. The K380 has scooped, low-profile scissor keys that provide laptop-like typing experience. Its pre-installed batteries can last up to two years.
Work life can indeed be rosy with the minimalist and modern Logitech MK470 SLIM COMBO. Coming in matching rose color, both the keyboard and mouse are silent and compact enough to accompany users wherever the office for the day is. The MK470 wireless keyboard and mouse combo have up to 10 meters in range and can be connected via a plug-and-play USB receiver with a stable 2.4 GHz connection.
The keyboard features a number pad and 12 FN shortcuts. Though it is compact, it gives users a familiar and comfortable laptop-like typing experience. The pebble-shaped mouse is slim and can be used by both right- and left-handed users. It is very quiet to use – with up to 90% noise-reduced mouse click noise. The mouse has up to 18 months in battery life, while the keyboard has up to 36 months of battery life.
Work with the iconic masters
One can never go wrong with an icon, more so a remastered icon. Meet Logitech's remastered iconic mouse, the MX Master 3S Performance Wireless Mouse, pumped up with the latest innovations. MX Master 3S features the most accurate sensor to date – the unbeatable 8,000-DPI optical sensor that tracks practically anywhere, even on glass.
It also features Quiet Clicks, delivering up to 90% reduction in click noise and soft tactile feedback. The equally silent MagSpeed Electromagnetic scroll wheel delivers both high precision and high speed. It is precise enough to stop on a pixel and fast enough to scroll 1,000 lines per second.
The MX Keys keyboard is a coder's dream. It is solid and held together by a single metal plate. Sensors light up when hands are detected. The keys are spherically dished and matte coated, and its Perfect Stroke keys match the shape of the fingertips.
Collaborate in style
Add color to your work life with the Logitech H390 USB Computer headset in shades of off-white, graphite and rose. Plug in the USB connection and enjoy high-quality digital audio experience with crisp video calls and a noise-canceling mic. Use its in-line controls to manage the volume or go on mute.
Those who want versatility will go with the Logitech H340 USB Computer Headset for everyday tasks. Its 180cm long cable and adjustable headband, provide room for maneuvering while staying connected. The plug-and-play headset is compatible with a PC or Mac computer with a USB-A port or adapter.
Let your personality shine through with the compact and stylish Logitech 1080p Brio 300 webcam. It compensates in a dim lighting environment through RightLight 2, an auto light correction feature. Logitech's full HD Brio 300 webcam ensures user's privacy with its integrated privacy shutter that can block the camera when not in use. Brio 300 comes in rose, off-white or graphite color.
Parts of the Brio 300 are made of post-consumer recycled plastic, giving it a subtly speckled appearance.
The Logitech C920 HD PRO Webcam is great for video calls. It works in any lighting environment, and can record clear audio with two built-in microphones with natural stereo audio. It also has an automatic noise reduction feature. The Logitech C920 HD PRO Webcam has a full HD 1080p video that shows high-definition images with automatic light correction, full HD 5 element glass lens and high-end autofocus features.
Available online and at local shops
Logitech accessories are available at the Logitech Official Store in Shopee and other partner retail stores nationwide. Logitech products are also available at partner outlets, PC Express, Silicon Valley, DataBlitz, Octagon, Electroworld, Complink, iTech, Techwarez, Gameone, Interpace Computer Systems, GameXtreme, TTI, GameOne, DynaQuest PC, Digi-Serv Solutions, Concept Computer, NUTECH, DFE (Davao Futurebright Enterprises), Villman, PCWorx, Abenson, Digistore, and Greenware.
Visit the Logitech website and official Facebook Page to learn more.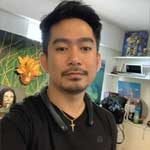 Josh Austria
Aside from being a businessman, Josh Austria has been working in PR and media industry for more more than a decade. From his years of experience as the Marketing and Advertising Head of Village Pipol Magazine, he has built strong relationships with creative people, brands, and organizations.