Cindy Obeñita is a queen of versatility and excellence
Cinderella Faye 'Cindy' Obeñita is a tall, gorgeous, and intelligent young diva who has shown great potential. Clearly, this 25-year old woman embodies hard work and sincerity. During our one-on-one interview, we learned a lot from her experiences and personal insights so we want to share them with you.
Cindy Obeñita conquers the world of beauty pageants and the academe
Even at a young age, Cindy has been joining beauty pageants in her school. Her efforts paid off when she was crowned in the Island Born of Fire" in Camiguin. After that, she started participating in mainstream pageants, including Miss Camiguin Tourism 2015 and Miss Cagayan de Oro  2019. She also bagged the crown in these competitions.
But even she joins beauty pageants, this young woman was able to juggle her academics then later on her career with her passion. She graduated magna cum laude with a degree in Mass Communication at Liceo de Cagayan University and was a super-achiever since her elementary days. Currently, Cindy works as Tourism Operations Officer of the Provincial Government of Misamis Oriental. When asked how she can promote her hometown, her answer is simple yet perfect:
"When in CDO, Misamis Oriental, you get the best of both worlds. CDO is the economic center in Mindanao and MisOr being home to some of the most beautiful beaches, lush green forest, and gastronomic delights. So whether you are traveling for business or pleasure, there won't be any shortage of exhilarating experiences."
On the sidelines, she wears many hats as an events host, print and ramp model, brand endorser, and founder of CROWN CDO: A Cervical Cancer Awareness and Prevention Circle. Also, it's adorable that this beauty queen is just like any normal girl who likes to watch Netflix during her free time. Her personal favorite is Emily in Paris because she learns a lot of career lessons from it.
"Just like her who is a millennial and landed her dream job, I know how important it is to show your opinion professionally and be proactive in the workplace."
How did Cindy prepare for her journey to the crown?
After her 3-year hiatus in pageantry, she got motivated to join Binibining Pilipinas 2020. She always perceives it as a first-rate among other beauty pageants so it can help her push her advocacy on health and well-being. She got overwhelming support from her "kababayans" in Mindanao that helped her a lot in emotional preparedness.
Armed with a strong determination, she equipped her mind with knowledge about current events. She also sticks to her home workouts and practices her pasarela or pageant walk. She added:
"After all, good preparation is better than hoping for a miracle on stage."
Even though she fears traveling because of the possibility of contracting COVID-19, Cindy faced the challenge and went to Manila to compete. Thankfully, BPCI has done a lot of efforts to ensure the candidates' health and safety. Because of that, she learned that one must work with an organization that deeply cares for its people. Seeing her strength, wisdom, and beauty, Cindy Obeñita is a strong contender for the upcoming Binibining Pilipinas 2020. This woman can do almost anything, and she does with sincerity and excellence.
Do you guys agree?
Photography by Jai Murcillo
Hair | Catherine Sta. Ana
Makeup | Paula Maceda
Stylist  | Odelon Simpao
See Also
Studio Village Pipol Studio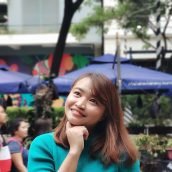 Queenie Lastra
Queenie Lasta got her bachelor's degree in Communications Research from UP Diliman. In her free time, she likes to read thriller novels, psychology books, and mangas. She believes in the importance of grit, hard work, and passion to become a great writer in the future.