ASUS Presents Seeing An Incredible Future at CES 2023
New lineup redefines the limits of performance, introduces game-changing, glasses-free 3D displays, and adds premium durability as new sustainable solutions take off
ASUS today revealed its latest lineup of innovations, world debuting products, and sustainable actions during its Seeing An Incredible Future virtual launch event for CES® 2023. New featured innovations include the world's first glasses-free 3D OLED laptop display technology. This technology provides a unique visual and working experience for creators. ASUS also announced its out-of-this-world creator solutions. It includes Windows 11-ready with up to the latest 13th Gen Intel® Core™ i9 HX series CPU and GeForce RTX 40 series Laptop GPU. New models include ProArt Studiobook 16 3D OLED (H7604), Zenbook Pro 16X OLED (UX7602BZ), Zenbook Pro 14 OLED (UX6404), Zenbook 14X OLED (UX3404), Vivobook Pro 16X OLED (K6604).
A range of new commercial products was also announced, each delivering incredible performance, versatility, and expandability for business. Highlights included the new ExpertBook B9 OLED (B9403CVA). A laptop that is incredibly light and powerful commercial laptop crafted for business executives. Also, the ASUS Chromebook Vibe CX34 Flip (CX3401FBA) laptop for immersive gaming and versatility. This array of new business solutions offers the perfect companions for non-stop productivity, durability, and security.
During the show, ASUS emphasized the brand's pioneering role in innovating for a sustainable future. "As we progress on this incredible journey towards sustainability, we continually leverage our technological leadership, data-driven rigor, and human-centered philosophy," said ASUS Co-CEO S.Y. Hsu, "our goal is to ultimately create a net-zero enterprise that drives the shift towards a circular economy — with a responsible supply chain creating shared values for each and every one of us."
Leveraging technology to create durable, reliable, and sustainable innovations
Over a decade ago, ASUS introduced the world's first carbon-neutral laptop closely followed by the revolutionary ASUS Bamboo-series laptops. More recently, followed by our first carbon-neutral business laptop in 2022. After these early steps toward creating a better future, ASUS continues to innovate. And today it showcased some of the sustainable actions being taken to bring exciting innovations. Innovations that create the most ubiquitous, intelligent, heartfelt, and joyful smart life for everyone.
This year, over 90% of ASUS consumer laptops will meet EPEAT and ENERGY STAR® 8.0 standards. By focusing on product quality, functionality, durability, and upgradability, ASUS ensures longer product lifecycles. Building its products from the ground up with sustainability in mind. Also, ASUS uses sustainable materials in product manufacturing and packaging. It actively procured and employed 1,500 tons of PCR (Post-consumer recycled) plastic since 2017. Not only that, it has over 20,000 tons of recycled paper in 2022. To do more, ASUS consistently pushes recyclability. This resulted in over 40,000 tons of electronic waste (e-waste) being recycled in recent years.
Going Beyond Durability
And our sustainability efforts don't stop there. By building more durable products, we are able to reduce waste and prolong the life of our laptops. ASUS also ensures users to have incredible experiences, no matter where they are. That is why the all-new 2023 ASUS consumer laptop models and beyond will undergo the strictest durability testing of any product in the consumer laptop market — the extraordinarily tough MIL-STD 810H US military-grade standard, based on 12 test methods and 26 test procedures — to deliver long-lasting value, reliability, and durability.
Additionally, ASUS has partnered with Ishizuka Glass for our antimicrobial treatments, using its IONPURE antimicrobial agent on select products. ASUS was the first in the laptop industry to introduce the ASUS Antimicrobial Guard Plus. It can inhibit the spread of 99% of virus and bacteria ― including COVID-19 ― over a 24-hour period. This technology is specifically tested on viruses such as Influenza A (H3N2) and H1N1. It also follows ISO 21702 and ISO 22196 testing protocols to help ensure a more hygienic user experience.
Incredibly exciting software and hardware for creators
During the CES 2023 event, ASUS introduced a range of new and updated software and hardware innovations for content creators. ProArt Creator Hub 2.0 is designed to ensure creators to bring their best ideas to life. Realizing it through utilizing their powerful ASUS hardware and software capability. This new version hosts a refreshed, modern user interface and an exclusive new feature — Color Control, combines all the color solutions specific to creators.
ProArt Creator Hub 2.0 updates the ASUS Dial and ASUS Control Panel capabilities. It does not only allow new customizations for Adobe ® apps, but also for productivity, entertainment, and content creation apps. It includes Microsoft 365, Spotify, YouTube, and popular web browsers. ProArt Creator Hub 2.0 will be available for all Studiobook, Zenbook, and Vivobook models with ASUS Dial, ASUS DialPad, or ASUS ScreenPad Plus. It will also be available for the ProArt mouse range as well as all ASUS touchscreen monitors.
To push the limits of the creator experience, ASUS has joined forces with Pantone®. It is the world-leading authority on color. Also, it provides an opportunity for creators to gain access to and utilize the Pantone resource database. Included to these are Pantone Libraries, Color Space data, Color Harmonies, and much more. All these features will be available on all ASUS creator laptops via the ASUS-exclusive ProArt Creator Hub 2.0 software.
ASUS Spatial Vision
In an exciting industry-first announcement, ASUS today also introduced ASUS Spatial Vision. The world's first glasses-free (autostereoscopic) 3D OLED technology, which allows immersive 3D experiences on a laptop — with no wearables required. This is made possible using a lenticular lens and advanced eye-tracking camera technology. It enables the display to weave distinct images for each eye, resulting in an autostereoscopic 3D image. Users can also switch effortlessly between 2D and 3D. This new technology can totally change creator workflows. They will be able to see the details of 3D objects and effects directly on the screen without needing to review physical prototypes. It saves time and money while making their workflow more efficient.
These incredible OLED displays offer a 1,000,000:1 contrast ratio. A 0.2 ms response time, and a 120 Hz refresh rate for seamless visuals. All while minimizing crosstalk for the smoothest viewing experience. They also offer great potential for rapidly growing metaverse applications. This glasses-free 3D OLED technology integrates with the exclusive apps in the ASUS Spatial Vision Hub. This allows users to watch 3D videos and movies, play 3D games, and enjoy 3D model visualization or content creation. Enjoying these while also offering unlimited potential for developers to build their own ecosystems.
Creativity in mind, full of innovations
ASUS ProArt Studiobook 16 3D OLED (H7604): 3D OLED creator mobile workstation
ASUS ProArt Studiobook 16 3D OLED (H7604) is the world's first 3D OLED creator mobile workstation, transcending the ordinary to go far beyond the everyday. It has a refined Mineral Black finish and features a step-wise design that enables slimmer screen bezels and makes room for the rear air vents. This design also allows the laptop screen to lie flat, offering any viewing angle up to 180°.
With its groundbreaking new glasses-free 3.2K 120 Hz 3D OLED display, content creators and gamers can view 3D photos, videos, or even games ― without cumbersome glasses or headsets. Creating 3D visual content is made faster and more intuitive, and ASUS Spatial Vision technology allows 2D visual content to be seamlessly converted to immersive 3D in real time with the flick of a switch. The super-bright OLED panel delivers stunning detail and vivid colors, featuring adaptive dimming technology to maximize display life.
ASUS ProArt Studiobook 16 3D OLED (H7604) Specifications
Its unstoppable 13th Gen Intel Core i9-13980HX processor, NVIDIA GeForce RTX 40 series laptop GPU, up to 64 GB of upgradeable memory and ultrafast storage frees creators to do what they do best: create and design, without boundaries. The certified color-accurate 16-inch 3.2K 120 Hz 3D OLED display does full justice to every creative vision, providing unrivaled visuals. A large, stylus-compatible haptic touchpad and the intuitive ASUS Dial rotary control offer ultimate precision and control in apps. It also enables seamless connectivity to all the latest peripherals via dual Thunderbolt™ 4 ports, with up to 40 Gbps transfer speeds.
Additional benefits include advanced ASUS IceCool Pro thermal technology, which gives the ProArt Studiobook 16 3D OLED the edge when it comes to performance and quietness. It also has the ASUS Dial for precise and intuitive creative control.
For those who prefer a more conventional display, a traditional 2D OLED touchscreen panel is also available. Later, in Q2 2023, the ProArt Studiobook 16 OLED family will be updated with a model featuring a pro-certified NVIDIA RTX laptop GPU.
ASUS Vivobook Pro 16X 3D OLED (K6604): Wow the world in 3D
ASUS Vivobook Pro 16X 3D OLED (K6604) is an innovative 16-inch laptop for creators that also features ASUS Spatial Vision technology with the world's first glasses-free autostereoscopic 3D OLED 3.2K 120 Hz display.
This powerful creator-focused laptop is powered by a 13th Gen Intel Core i9 HX series processor, with graphics provided by the latest NVIDIA GeForce RTX 40 series Laptop GPU, along with a MUX Switch and NVIDIA Studio Driver support for an on-demand performance boost during content creation and gaming.
Vivobook Pro 16X 3D OLED has advanced ASUS IceCool Pro thermal technology and the ASUS DialPad for precise and intuitive creative control. It also benefits from dual Thunderbolt™ 4 ports for ultrafast transfer speeds of up to 40 Gbps and a standard SD card reader.
ASUS Zenbook Pro 16X OLED (UX7602BZ): The most powerful Zenbook yet
Partnering with Intel, ASUS has redesigned the impressive Zenbook Pro 16X OLED (UX7602BZ) with a unique Intel processor with the latest ASUS Supernova System-on-Module (SoM) Design. This module packaging technique reduces the motherboard core area by 38%, increasing the overall cooling efficiency of the system and leaves extra room for the GPU power components, giving users more stability and higher GPU performance. This design adopts low-loss substrate-like materials, and shortens the distance between the CPU and memory by placing both components on the circuit board, allowing the memory to hit an incredible 7500 MHz. In addition, the laptop adopts a liquid metal thermal compound, reducing its temperature by 7°C in high performance mode, allowing it to achieve a total TDP of up to 155 W.
The ultra-compact ASUS Supernova SoM enables ultra-powerful performance from the 13th Gen Intel Core i9 H series processor, and NVIDIA GeForce RTX 40 series laptop GPU, and fast LPDDR5X DRAM, the new 2023 Zenbook Pro 16X OLED will offers 1.4X faster video editing and up to an astounding 8.9X faster 3D rendering times compared to the previous model, enabling creators finish creative projects in record time.
This laptop has a world-leading 16:10 3.2K 120Hz OLED HDR NanoEdge touchscreen. The Active Aerodynamic System Ultra (AAS Ultra) auto-tilting keyboard ensures a comfortable typing angle and enhances system cooling for maximum performance. There's a White RGB intelligent keyboard lighting system with smart interactivity features. The innovative ASUS Dial allows precise fingertip control in Adobe and most other apps, while the larger ASUS NumberPad features haptic feedback and enhanced pressure sensitivity for easier number entry.
With its ASUS Supernova SoM, LPDDR5X DRAM, and optimized GPU, Zenbook Pro 16X OLED redefines what a compact creator laptop should be, helping to take creativity to the next level.
ASUS Zenbook Pro 14 OLED (UX6404) and Zenbook 14X OLED (UX3404): All about performance and portability
Weighing just 1.65 kg and measuring less than 1.8 cm thick, Zenbook Pro 14 OLED (UX6404) has top-tier performance, best-in-class visuals, surprising innovations, and a compact chassis, expanding the possibilities for creators on the go. An all-new, cutting-edge 2.8K 120 Hz OLED NanoEdge Dolby Vision® display produces jaw-dropping detail, super-smooth motion, and ultra-vivid colors. It is also Pantone Validated for color accuracy and has a cinema-grade 100% DCI-P3 gamut. Creating or enjoying visual content has never been better thanks to its bright and clear HDR imagery and deep blacks.
For outstanding performance during any creative task, Zenbook Pro 14 OLED is powered by up to the latest 13th Gen Intel Core i9 H-series processor and studio-grade NVIDIA GeForce RTX 40 series laptop GPU, matched with fast, expandable DDR5 RAM.
Zenbook Pro 14 OLED includes enhancements to productivity and creativity, such as the ASUS DialPad for intuitive app control, ASUS Pen 2.0 support, along with a full set of I/O ports. Furthermore, a long-lasting high-capacity 76 Wh battery makes Zenbook Pro 14 OLED the perfect match for serious on-the-go creation.
Zenbook 14X OLED (UX3404) puts mobile life on a rock-solid footing. This powerful model has a thin-and-light chassis and comes in two colors, Sandstone Beige and Inkwell Gray. The Sandstone Beige version has a lid made from a new ecofriendly Plasma Ceramization coating technique. This creates a ceramic-like finish and stone-like feel. And inside, there's up to the latest 13th Gen Intel Core i9 H-series processor, studio-grade NVIDIA GeForce RTX graphics, and fast LPDDR5 memory. There's also a bigger 14.5-inch 16:10 2.8K 120 Hz OLED HDR NanoEdge display and a longer-lasting 70 Wh battery.
Incredibly powerful business solutions
ASUS ExpertBook B9 OLED (B9403CVA): Ultralight, uncompromised performance for business executives
ASUS ExpertBook B9 OLED (B9403CVA) is the first all-metal ASUS laptop to employ an eco-conscious manufacturing technology. This ecofriendly manufacturing process helps to reduce production materials by up to 29%, and shortens manufacturing time by up to 75% to maximize energy efficiency. The upshot is a stronger finished product created using fewer overall resources, minimizing carbon emissions.
This laptop is powered by a 13th Gen Intel CPU supporting the Intel vPro® platform. It has an upgraded 2.8K display with a 90% screen-to-body ratio and a smart cooling system. A cooling system consisting of dual fans with smart dust removal to reduce fan noise. It has an enhanced FHD IR camera resolution and benefits from a touchpad that's 26.8% larger than the previous generation. They have sustained multiple improvement. Moreover, they remain as one of the lightest 14" business laptop in the world, lighter than most other 13″ laptops. The 16:10 OLED display provides vivid and accurate colors. Consisting of a larger visual workspace, perfect to manage data analysis and market intelligence tasks. Crafted from an ultra-lightweight magnesium-lithium alloy, it offers US military-grade durability, and is lighter, stronger, and more portable.
Privacy and Security
ExpertBook B9 OLED also delivers superior security and privacy including NFC login. It has Kensington lock slot, a physical webcam shield, a camera, and fingerprint sensor for Windows Hello login. Extremely portable, powerful, and tough, ExpertBook B9 OLED is the perfect device for daily work and frequent business travel.
In 2023, all ExpertBook series products will be EPEAT Gold verified and exceed ENERGY STAR standards. It aligns with the ASUS commitment towards circular economy. This is made possible by using environmentally friendly materials and ensuring energy efficiency across the entire product lineup.
ASUS Chromebook Vibe CX34 Flip (CX3401FBA): Increased versatility for exceptional gaming experiences
ASUS Chromebook Vibe CX34 Flip (CX3401FBA) pairs incredibly realistic visuals and exceptional performance. These deliver unmatched cloud gaming experiences and nonstop productivity on the go. This remarkable device delivers an immersive gaming experience, featuring a 16:10, 144 Hz WUXGA display with an 83% screen-to-body ratio. I also has full 360° ErgoLift hinge, an anti-ghosting keyboard with four-zone RGB lighting, and ultrafast WiFi 6E technology. ASUS Chromebook Vibe CX34 Flip has a durable chassis. Also, it has a distinctive Pearl White finish that includes exclusive orange-accented WASD keycaps for added flair. Integrated Harman Kardon-certified spatial audio adds to the immersive experience, and testing to MIL-STD 810H US military-grade standards ensures durability.
Powered by up to a 12th Gen Intel Core i7 processor and 16 GB of memory, ASUS Chromebook Vibe CX34 Flip delivers performance and responsiveness. It empowers users with the ultimate device for cloud gaming, work, and everything in between. Easily access over 1,400 games through cloud gaming platforms, as well as Google Workspace apps and other productivity apps on Google Play. Breeze through projects or enjoy entertainment on the go, with a spacious PCI Express® SSD giving fast-access storage. The laptop runs for up to 10 hourson a single charge. Be ready for work or play throughout the day ― even when on the move.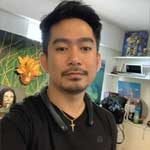 Josh Austria
Aside from being a businessman, Josh Austria has been working in PR and media industry for more more than a decade. From his years of experience as the Marketing and Advertising Head of Village Pipol Magazine, he has built strong relationships with creative people, brands, and organizations.