Andrea Brillantes wows her viewers in her latest vlog after trying her hand at doing drag.
With help from make-up artist Jelly Eugenio, hairstylist Paul Nebres, and stylist Eldzs Mejia, the actress slew in her transformation.
In her vlog last August 27, Andrea wanted to try the craft after watching several seasons of RuPaul's Drag Race.
Furthermore, she explains,
"Puro ako nood ng RuPaul['s Drag Race]. Nasa Season 6 na ako. Every day nakakatapos ako ng isang season and gusto ko lang ma-experience."
At first, the Huwag Kang Mangamba star felt worried people might get the wrong idea of a girl in drag.
However, her glam team assured that the modern drag community accepts drag being done by different genders.
The story behind her name
Then, Andrea revealed the drag name she wanted: Valentine Royale.
"Gusto ko 'yong pangalan sa akin sana is Valentine, kasi favorite ko ang Valentine's Day kasi pula, love ko ang pula, love ko ang heart. Ta's gusto ko maging royalty 'yong anak ko kaya may royale."
When it comes to learnings from RuPaul's Drag Race, she learned how she feels grateful to have supportive people in her life.
In addition, the show made Andrea realize that not everyone has that and has admired queens who still live a great life without such.
Valentine's full look
Further, Andrea loved the reveal of her make-up, which she instantly fell in love with.
The mug had a classic drag queen look with a black eye-liner, white on the waterline, and high eyebrows.
Jelly topped it all of with a sharp red lip color which added to Andrea's already gorgeous look.
To finish it off, she donned a big black wig and a fierce red gown with accessories to continue her fabulous look.
Check out Valentine Royale, her full look, and the full drag transformation vlog below!
Do you dream of having a drag transformation too? What will be your inspiration behind it? Let us know!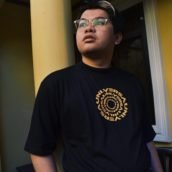 Kobe Adam Joshua Laurena
Kobe Adam Joshua Laurena is a writer who loves to tell stories from the perspectives of different people and everyday life. Apart from the pen, he loves to pick up the lipstick to transform into his frustrated drag persona: Anita Good Lovin'. He aspires to combine his love for writing and drag by creating a novel, short story, or screenplay about local drag queens in the future. He also has an obsession with sitcoms, women's pro-wrestling, and Funko Pops.