Alex Diaz bagged a lead role in the upcoming LBTQIA+ movie musical Glitter & Doom.
The film will feature songs from Grammy Award-winning folk-rock musical duo Indigo Girls.
The actor-singer auditioned for the role of Glitter and has been shooting for the film in Mexico City since September 9.
In an article by Deadline, Glitter & Doom focuses on a musician and a "carefree kid" who falls in love at first sight.
The film also stars Alan Cammish in the lead role of Doom and Orange Is the New Black star Lea DeLaria.
The Indigo Girls themselves will make cameo appearances in the film, as well as Tig Notaro.
The Mandalorian star Ming Na-Wen and Y: The Last Man actress Missi Pyle recently joined the cast, as well.
Tom Gustafson helms Glitter & Doom while Cory Krueckeberg wrote the screenplay.
On the other hand, the Indigo Girls have made past hits like "Power of Two" and "Kid Fears."
Also, the duo has long identified themselves as part of the LGBTQ+ community and advocates for LGBTQ+ rights.
On the other hand, Alex became involved in a controversy back in 2019 and came out as bisexual.
Good luck with your international role as Glitter, Alex! May you showcase your great talents in this movie!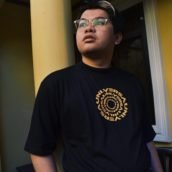 Kobe Adam Joshua Laurena
Kobe Adam Joshua Laurena is a writer who loves to tell stories from the perspectives of different people and everyday life. Apart from the pen, he loves to pick up the lipstick to transform into his frustrated drag persona: Anita Good Lovin'. He aspires to combine his love for writing and drag by creating a novel, short story, or screenplay about local drag queens in the future. He also has an obsession with sitcoms, women's pro-wrestling, and Funko Pops.