ALERT: F4 Thailand is coming to Manila!
Photo from Rise Media Philippines (Facebook)
This news is for you, Filipino lakorn enthusiasts— the handsome lads of F4 Thailand are coming to Manila in the Philippines this November!
After capturing many hearts through the romance they brought onscreen, the men of F4 Thailand are ready to meet their Pinoy fans. Through a Facebook post dated October 9, Rise Media Philippines made the announcement:
"Dream big as Thailand's biggest young stars Bright, Win, Dew, and Nani are making their way to Manila for their Shooting Star Asia Tour!" they wrote in a caption. The said event will take place on November 19 at the World Trade Center Metro Manila, Pasay City.
Additionally, the production page further revealed the seating plan and prices of tickets. It starts from PHP 3,500 for General Admission to PHP 13,500 for SVIP. Aside from performances and interaction with the boys, attendants may also receive fan benefits. Those includes signed posters, photocards, and exclusive event shirts.
Meanwhile, ticket selling for Shooting Star Asia Tour begins at 5 PM on October 15. Purchasing will be available on all SM Tickets' outlets or by visiting their website.
See Also
F4 Thailand consists of actors Bright Vachirawit, Win Metawin, Dew Jirawat, and Nani Hirunkit. They acquired this title for playing the lead roles for the 2021 lakorn Boys Over Flowers. The show is a local adaptation of a famous South Korean series of the same name.
In the Philippines, patronage of Thailand's television dramas is considered part of Filipinos' wide admiration for foreign entertainment. Since the initial stages of the pandemic in 2020, Thai programs heightened their domestic invasion thanks to the rise of BL (boys' love).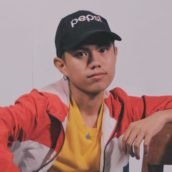 Renzneil Robles
Renzo is an introvert who prefers to do things at his own pace. Unlike most writers, he reads lazily. Watching Korean dramas at night is his constant source of comfort. Although oftentimes commended for being outspoken, he speaks better through writing than with his words.