Manila Luzon has arrived in the Philippines to headline one of the country's drag reality competitions Drag Den Philippines.
The show posted the arrival of the Filipino-American drag queen and RuPaul's Drag Race alum last Sunday, October 24.
They wrote in their Instagram account,
"The long wait is over! She's finally back! [Manila Luzon] is now in Manila, Luzon! WELCOME TO THE PEARLIEST PEARL OF THE ORIENT SEAS, MAMANG!"
Manila Luzon also retweeted Drag Den Philippines' announcement of her arrival on Twitter.
Moreover, the drag queen posted an Instagram photo of herself in the hotel where she will be doing quarantine.
Last July, Cornerstone Entertainment announced the upcoming Filipino drag reality competition Drag Den Philippines.
In addition, they announced how Manila Luzon would be headlining the show as host.
Last August, Cornerstone Entertainment called for auditions for the show, where the winner will be crowned the "Philippine Drag Supreme."
Manila Luzon, known as Karl Westerberg in real life, is known for her stint in the third season of RuPaul's Drag Race.
She placed runner-up during the season and returned to the franchise to compete in RuPaul's Drag Race: All Stars seasons 1 and 4.
Meanwhile, another drag competition, Drag Race Philippines, will also be making its way in the country soon.
Welcome back to the Philippines, Manila!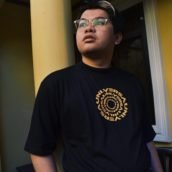 Kobe Adam Joshua Laurena
Kobe Adam Joshua Laurena is a writer who loves to tell stories from the perspectives of different people and everyday life. Apart from the pen, he loves to pick up the lipstick to transform into his frustrated drag persona: Anita Good Lovin'. He aspires to combine his love for writing and drag by creating a novel, short story, or screenplay about local drag queens in the future. He also has an obsession with sitcoms, women's pro-wrestling, and Funko Pops.