"Raya and the Last Dragon" will follow the story of Disney's first Southeast Asian princess. This movie will certainly make you proud of our Pinoy culture as it will also showcase the first Filipino-language song. No wonder the animation giant has chosen the talented KZ Tandingan to perform it!
One of the most powerful voices in the Philippines
Fo the first Filipino-language song in Disney "Raya and the Last Dragon", one of the Philippines' "most powerful voices" is going to sing it. Disney Studios Philippines posted a teaser on Instagram a photo of a woman who seems to be in a Filipina piña cloth attire. The caption reads, The first Filipino-language song from Disney, sung by one of the Philippines' most powerful voices. Find out who she is tomorrow. #DisneyRayaPH".
Shortly after that, Disney revealed that KZ Tandingan will perform the song 'Gabay' for this upcoming movie. We really think that KZ's voice is perfect for the story's narrative about a strong, warrior princess!
According to a report on Entertainment Weekly,  many southeast Asian cultures influenced this animation movie. This includes the Philippines, Vietnam, Thailand, Laos, Cambodia, and Malaysia.
What is the story of Raya and the Last Dragon all about?
Walt Disney Animation Studios' "Raya and the Last Dragon" travels to the fantasy world of Kumandra, where humans and dragons lived together long ago in harmony. However, an evil force threatened the land so the dragons sacrificed themselves to save humanity. After 500 years, that same evil has returned. It's up to a lone warrior Raya to track down the legendary last dragon. By doing that, she can restore the land and its people. Along her journey, she'll learn that it'll take more than a dragon to save the world. It's going to take trust and teamwork as well.
Raya and the Last Dragon features the voices of Kelly Marie Tran as Raya, a warrior whose wit is as sharp as her blade, and Awkwafina as the magical, mythical, self-deprecating dragon named Sisu. Characters also include a street-savvy 10-year-old entrepreneur named Boun, the formidable giant Tong, and a thieving toddler Noi with her band of Ongis. Directed by Don Hall and Carlos López Estrada and produced by Osnat Shurer and Peter Del Vecho.
Raya and the Last Dragon will arrive in Philippine theaters this March.
Did you guess correctly?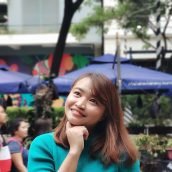 Queenie Lastra
Queenie Lasta got her bachelor's degree in Communications Research from UP Diliman. In her free time, she likes to read thriller novels, psychology books, and mangas. She believes in the importance of grit, hard work, and passion to become a great writer in the future.