John Walter now opens a new chapter as he embarks on a solo music career this 2022. He used to perform as a frontman of the band Down by 18, signed under Viva Records. He found success topping charts and getting award nominations.
John Walter releases warm-up single "Ulan"
"I'm creative and I see this as the ultimate test. [It helps me] unlock my potential and learning new things from new people who are part of my days. It's all a daily learning process. And, I get to be responsible and accountable with what I choose to do with my time. It may seem like going solo means working on my own. But, actually, I'm grateful to be working with a team that wants the best for me."
At age 18, Jonn Walter signed under Viva Records with his then band Down By 18 and led the band on various TV shows and live performances. Their song Piring topped the charts on one of the most beloved radio stations in the metro. It also became nominated at the 2019 PMPC Music Awards. Spotify playlists also constantly feature the band's songs.
In 2020, Jonn Walter also wrote and performed Kulay Bahaghari, featured in the movie Hindi Tayo Pwede. He recently received a release from Viva and his band Down by 18. He also sees this as an important push in his career. Of course, he misses his bandmates. However, he also understands that now remains a good time to take this next step.
"It was hard for all of us to meet and make music during the pandemic. And I wish them all the success with whatever they pursue as individuals or as a group. We're young and I feel I can unlock my potential by embarking on a solo career. We had such a good time together and I actually look forward to working with them again in the future."
The pandemic lockdown took out two years of his social life. Jonn Walter slowly learns what it means to be a young adult in this new normal.
With roots from Leyte, he moved to Manila a few years back to grind for his own dreams. The pandemic allowed him to further hone his craft and come up with new songs. Of course, some of which he plans to release to launch his solo journey.
Jonn shares that most of his songs are songs that he dreams about.
"Maybe these were feelings I had unconsciously — sometimes the melody comes first and I just fill it in. Inspiration kicks in at the most random times."
One of these songs remains Ikaw, his new single which will they released on digital streaming platforms on June 3.
"The song is about a very interesting individual that captured my heart. It was a very special time in my life — so in short, that song is a real life experience of mine. Hoping she's out there and she'll hear it once it's out. I owe it to her to do good in what I do. I pray that she is well too. I want her to know that I constantly think of her. What we shared was special enough that I wrote this song."
As an artist, Jonn exudes a quiet maturity. However, he admits that he's really an awkward fellow. He finds himself in his element. He also feels this way when he performs or when he goes to the studio to create music. Aside from that, he also feels this way when surrounded by good people and, as much as possible, good food,
"The best environment for me would be one with good music, good food, and good people. No negative vibes, food for everyone and then I also get serious about making music. So I would say — you would need to experience being with me in the studio because this is where I'm at my best."
A week before releasing Ikaw, Jonn Walter released the song Ulan which he shares actually has an important story behind it.
"I had my management hear some of my compositions and that song stuck with them. We wanted a new way to introduce myself, and we thought about putting out two songs. One, light and happy, and the other one is quite sad. Ulan, being my warm up single – is my gift to my fans. Hopefully they like it and that some people will relate to it. I'm sure we've all experienced heartbreak and this is no different."
Jonn Walter looks forward to writing more songs in the three languages he speaks Waray, Filipino, and English.
"I love speaking in tagalog, mas ramdam, mas malungkot, mas expressive ako, mas madali sa akin to come up with pop songs using tagalog. And ganda ng sariling wika natin. Hopefully we can do it like how Kpop did it, making bilingual songs popular."
2022 is poised to be a very promising year musically for Jonn Walter. He dreams not only of making hit songs but also performing in shows. This also includes Dubai Expo and other local and international music events. He also makes sure to connect deeper with his fans through digital content and more.
So that John Walter can take them with him on this journey of turning his dreams into reality, one step at a time.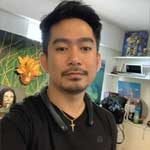 Josh Austria
Aside from being a businessman, Josh Austria has been working in PR and media industry for more more than a decade. From his years of experience as the Marketing and Advertising Head of Village Pipol Magazine, he has built strong relationships with creative people, brands, and organizations.