Instagram Live has become more functional and user-friendly. Especially, with two of its newly-introduced handy functions. You can finally mute the audio or video all you want. Awkward pauses will no longer exist in your live stream!
Instagram now lets you mute audio and video during a live stream
Giving you different options when joining a live chat
Streaming platform Instagram rolled out two new features saying because they want to "normalize not always being on." On Social Media Today, Instagram further elaborates the reason behind these features.
"We want to build on our Live product and offer even more ways for our creator community to drive a serendipitous, engaging conversation with each other and their audience. By giving people the option to mute their audio or turn off their video, hosts will have the added flexibility for their live-stream experience, as the added functionality could help decrease pressure to look or sound a certain way while broadcasting live."
This just means that the platform allows users to mute their mic or camera during live broadcasts. If you do not want to share your image with your followers or viewers, the app will just display your profile photo. Yes, this is quite practical especially when you have to manage unexpected scenarios during a live broadcast.
Advantages of the mute video and audio feature
Having the ability to mute either audio or video on your side of a live chat is pretty interesting. In what sense? We don't know about you, but several users don't feel comfortable with how they look all the time. This creates anxiety for some people and this is why they also turn off video during Zoom calls. Aside from that rationale, muting videos on Instagram Live can enable audio-only live broadcasts. It means it can probably compete with audio rooms on Clubhouse.
Instagram is slowly evolving as they add new features to make things fun and engaging. Users can now Live Rooms with just four participants and it now also allows them to save Stories as a draft. If you fancy singing a karaoke duet like on TikTok, then you can the remix function in Reels.
Will you use it on your next live stream? Let us hear what you think about it!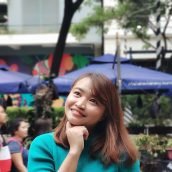 Queenie Lastra
Queenie Lasta got her bachelor's degree in Communications Research from UP Diliman. In her free time, she likes to read thriller novels, psychology books, and mangas. She believes in the importance of grit, hard work, and passion to become a great writer in the future.