As a woman in my early 30s, I am now starting to realize that anti-aging products are my BFFs. Sure, makeup skills can make us look a little bit younger. However, there's nothing that can beat the youthful glow from a healthy regimen and the right skincare products, like LANBENA.
What is LANBENA?
There's already a slew of anti-aging skincare products in the market touting miracle ingredients as solutions for skin aging issues. As a result, it's hard to decide which to use. Thankfully, I stumbled upon a relatively new skincare brand in the Philippines called LANBENA.
According to their website, LANBENA is an Asian skincare brand that specializes in creating results-oriented products with traditional Chinese ingredients. They have a full range of facial care, eye care, and health care items to target various skin concerns.
If you're in the market for products in Lanbena that will reduce fine lines, dark spots, and pores, you better take a look at these products:
Scars caused by pimples, burns, and cuts can really affect someone's self-esteem. You can say goodbye to those with this scar-removing gel cream from LANBENA. It has promising ingredients such as Centella Asiatica, Glycerin, Allantoin, Ginseng, White Tea, Rhodiola, and others. According to the brand, you can store it for three years and it suits all skin types.
To use, you should clean and disinfect the wounds or scars first then apply the cream once every morning and evening on the affected area.
Got some pesky stretchmarks on your thigh, glutes, or tummy? This LANBENA Scar Removal Serum Stretch Marks Acne Treatment is your friend. The product description says that it's made of plant extracts to soften and improve the appearance of scars and stretch marks.
LANBENA cautions if you have sensitive skin. You must perform a sensitivity test at the back of your ear before using this product. This is to make sure you won't have any adverse reactions.
If you're looking to amp up your skincare routine with a product that offers a bigger, more powerful dose of active ingredients than a cleanser or moisturizer, a face serum may be the answer.
Designed to nourish, protect, and hydrate your skin, face serums are a great next step after cleansing and before moisturizing. The great news is LANBENA offers five variants of face serums, depending on your needs. It is composed of Vitamin C Serum, 24K Gold Serum, Hyaluronic Acid Serum, Acne Treatment Serum, and Pore Shrink Serum.
Since small molecules from these serums are easy to absorb, they can surely target your skin problem. For me, I'll probably be using the Hyaluronic Acid Serum to get the Korean glass skin we all want. I'll also include the Pore Shrink Serum to tighten my large pores and make my complexion look smoother.
I cannot further stress how necessary for us ladies to wear sunscreen every day. A good quality sunscreen must be a staple in your arsenal if you don't like skin damage from the sun. However, many oily skin gals don't like putting sunscreen because of the sticky texture.
Fear not! The LANBENA Whitening Sunscreen has a lightweight, watery texture so it won't be sticky. The brand also said it has seaweed and advanced essence encapsulation
technology to even out and brighten the skin tone while concealing acne marks. Last, but not least, it has SPF 50 so you don't have to worry about being under the sun!
All of the mentioned beauty products are so affordable and you can grab them via LANBENA PH's official store in Shopee. They are also offering store vouchers, depending on your minimum spend, from September 22 until October 22, 2021.
Remember, no matter how busy your schedule is, take the time to nourish and pamper your skin. If you'll do this religiously, you will glow effortlessly. Keep shining!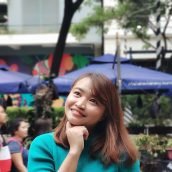 Queenie Lastra
Queenie Lasta got her bachelor's degree in Communications Research from UP Diliman. In her free time, she likes to read thriller novels, psychology books, and mangas. She believes in the importance of grit, hard work, and passion to become a great writer in the future.