Home for the Holidays with Richard Gomez and Doña Elena Olive Oil
Food and family take center stage this Christmas! Celebrity dad and public servant Richard Gomez says he becomes nostalgic during the holidays and recounts his holiday traditions with his Lola Lydia.
When September comes around, my Lola already starts preparing her fruitcakes so that they are ready and delicious by Christmastime. I remember going with her to Quiapo to buy the ingredients in bulk. She would really make a lot and sell them or give them away to family and friends. When she passed away, my Tita makes the fruitcakes according to my Lola's recipe and I am already anticipating them. Masarap talaga eh.
Richard Gomez's love for cooking was nurtured by his Lola.
She really taught me the basics of cooking, starting with the importance of a good ginisa. She said the way you cook your tomatoes and your onions is very important. One of my favorites that she always cooks is the Binagoongan na Baboy. 'Yun talaga yung all-time favorite ko sa lola ko, that and her Brain Omelette with Onion Leeks.
Home for the Holidays with Richard Gomez and Doña Elena Olive Oil
All in the family
Richard Gomez puts his cooking skills to good use in his own kitchen and on his Goma at Home Youtube channel where he prepares meals that his followers can easily cook at home and share his favorite recipes he learned through travels. He talks about his holiday traditions with his wife Lucy and daughter Juliana.
Lucy really likes to set up the house. Right after Halloween, naka-set up na yung Christmas tree namin sa bahay and it's really Lucy who prepares all the gifts. She would spend sleepless nights preparing gifts for people. As for me, I just take care of the food. Our house is always open for friends and relatives, so there is always food in the house during the Christmas season.
Richard Gomez cooks whatever is available, he says and he also consults with his family about what they want to eat.
For Noche Buena, we usually go with something light, such as Queso de Bola, Ham, and Hot Chocolate, along with whatever dish they want to eat. Sometimes, I'd grill steaks, with mashed potatoes and some veggies. If they want to have something with sauce, I make Callos or my Beef Bourguignon. I remember one time, Lucy asked for Sinigang, which is actually perfect for the cool weather.
Juliana, he says, is really good at baking.
She would bake a lot of cookies. She would bake bread and she makes really good New York-style bagels.
Richard Gomez says their family loves to congregate in the kitchen.
We'd really spend a lot of time chatting there. That's why I make sure our kitchen is conducive for us to have fun and spend time together.
He is very happy to cook for them, he adds, saying he feels pure joy and happiness when cooking even the simplest dishes.
Parang ang sarap ng feeling when you see them enjoying the food that you cooked, lalo na pag nauubos. That's why, when I cook, I really prepare a lot. We often have unexpected guests at home and I make sure there is always food at the table to serve them.
Richard Gomez loves to eat as well, and as former Mayor of Ormoc and currently Representative of Leyte's 4th district, he says his favorite Visayan food is Humba and Pakdol, a soup dish that is similar to Bulalo. 
Cooking and pantry tips
One of his secrets to cooking is that everything he makes is made with love and that his pantry is always stocked with his favorite ingredients for quick-cook meals.
I always have assorted spices and canned goods, pasta, and Doña Elena Olive Oil.
He says that he and his family became more conscious of what they ate during the pandemic, in order to stay healthy.
You have to eat food that is good for you, and those that are not as good for you, really shouldn't be eaten in excess. We have seen videos that tell you that some oils are better than others. Before, we all just thought that cooking oils are all the same, and that olive oil was just part of salad dressing. When Lucy and I started traveling and watching cooking shows, that's when we realized olive oil can be used in so many other ways, and it's healthier and helps make food more flavorful.
Richard Gomez wasn't always into cooking and eating healthy, he admits.
When I was living by myself, I found it more convenient to eat out. When you are home alone it's a hassle to prepare food and wash everything. So I would go out with friends or eat by myself or with my driver.
Now that he is a family man, he places more importance on mealtimes.
When we are eating together, we're able to talk about so many things. I get to ask them how they're doing, what their plans are, and what happened during the past few days. Also, cooking is part of my relaxation. I also enjoy it when I am talking to people when I cook.
For newbies, Richard Gomez advises investing in good kitchen equipment and to start with the simplest dishes.
A simple ginisa, adobo, or a simple bistek. You can also do fried fish and make a sauce using tomatoes and capers. When they are more comfortable, they can level up. He also advises choosing good ingredients like Doña Elena Olive Oil. "I use it in my callos and in my pasta dishes like Aglio e Olio, which is a really good beginner's dish. It's just Doña Elena Olive Oil, garlic, pepper, and some cheese. Simple as that!
Doña Elena is the country's no.1 olive oil brand, rich in good fats and antioxidants from a combination of hojiblanca and picual olives. A nutritious source of 80% monounsaturated oleic acids, with vitamins E, K, and A that helps to lower bad cholesterol, it also makes a delicious replacement for butter, mayonnaise, and margarine.
Doña Elena Olive is available in Pure, Extra Virgin, and Pomace is conveniently available in 250 ml, 500 ml, 1 Liter, and 5 Liter PET bottle sizes. Available in all groceries and supermarkets nationwide, you can also purchase at Fly Ace Corporation Official Lazada Store, Fly Ace Corporation Official Shopee Store, or at the Ace Market Website.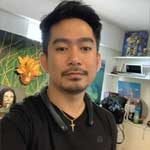 Josh Austria
Aside from being a businessman, Josh Austria has been working in PR and media industry for more more than a decade. From his years of experience as the Marketing and Advertising Head of Village Pipol Magazine, he has built strong relationships with creative people, brands, and organizations.