Hoard All The Logitech Gear You Want For Christmas At The 12.12 Big Christmas Sale
Enjoy huge discounts when shopping for holiday presents for yourself or your loved ones this 12.12!
Managing your workload and staying on top of your to-do-list is not always easy. But with the right gear, professionals, digital nomads, and remote office workers can get an extra boost of productivity and efficiency that helps get things done.
Logitech's products are some of the most high-quality, and dependable options out there. For anyone looking for awesome computer peripherals for your home offices, you're in for a treat. Many of these work-from-home essentials are going on sale, just in time for Christmas.

On December 12, shoppers can look forward to huge savings and unbelievable deals during the 12.12 Big Christmas Sale at the Logitech Official Store in Shopee. Discounts of up to 50% on select items, cashback capped at Php 100, and free Sodexo GCs worth Php 100, Php 200, and Php 500 for select items will be offered during the 12.12 sale.
You can also get Php 200 off for a minimum purchase of Php 3,000. And, as an add-on deal, get an additional 2% off for every purchase of 2 units. Also, an additional 5% off for every purchase of 3 or more units, plus special bundles and freebies from Logitech.

Awesome deals on Logitech products at the 12.12 Big Christmas Sale

If you're looking for a versatile headset for daily tasks, check out the H340 USB Computer Headset. This plug-and-play headset is simple and convenient to use, and easily connects to your computer via a USB-A jack.
Best of all, you are assured of clear digital audio every time you speak. Thanks to this headset's noise-cancelling microphone, it effectively reduces background noise.

If you work on a computer, the H150 Stereo Headset is a great choice, since it comes with dual plugs for separate 3.5mm microphone-in and audio-out ports. Its 180-degree rotating microphone can be worn either on the right or the left and can also be conveniently tucked away when not in use.
This headset also comes with in-line controls, allowing you to quickly adjust the volume or mute calls.

The H111 Stereo Headset is a fantastic option for those who use multiple devices for work or online learning, as it can easily be connected to a computer, smartphone, or tablet using its 3.5mm audio jack.
This affordable headset is compatible with most operating systems and platforms. It is the perfect headset for virtual classes, voice calls, and webinars.

The multi-device H151 Stereo Headset is both easy to use, and sounds great on all of your devices.
It has full stereo sound for crisp, clear voice and video calls, music, games, and more. This headset is absolutely essential for the office or for personal use. It is sturdy and lightweight, and features a broad range of adjustments. Plus, ultra-soft foam ear cushions for hours of comfort.

The H370 USB Computer Headset is another awesome USB headset from Logitech. It is fitted with simple in-line controls on its cord. You can easily adjust volume, or mute calls without disruption when using this headset.
It is equipped with a noise-canceling mic, too. It can be conveniently positioned for better voice capture and background noise reduction.

Another easy to use headset is Logitech's H390 USB Computer Headset, which features enhanced digital audio and handy in-line controls. This plug-and-play headset can be used with any computer that has a USB-A port, without the need to install any additional software.

If you're looking for a great webcam, try the C922 PRO HD Stream Webcam from Logitech.
This webcam ensures superior image clarity that's suited for serious streamers. It also captures more realistic sound from multiple angles with its two omnidirectional microphones. This way, your voice always comes through, loud and clear.

See Also
Logitech's C505 HD Webcam with extended reach is capable of uniquely versatile mounting options, thanks to its extra-long 2M USB-A cable.
This webcam delivers crisp, smooth, and colorful video with HD 720p resolution. It is paired with a 60° diagonal field of view, fixed focus, and auto light correction. It is also equipped with a long-range mic that supports clear, natural conversation up to 3 meters away.

If what you want is a basic, feature-packed webcam, opt for the C270 HD Webcam. With automatic light correction, this webcam ensures that you are seen in natural, lifelike colors whenever you're on screen.
It also gives you crisp HD 720p video calls. The webcam is compatible with popular platforms used for work and learning, such as Skype and Zoom.

All these and more are going on sale this 12.12 at the Logitech Official Store in Shopee! Head over to the Logitech website and official Facebook Page to learn more.

Your 12.12 Big Christmas Sale purchases will also make you eligible for the Logitech Work From Home Xmas Xtravaganza Raffle Promo.
You can win up to Php 100,000 worth of prizes, including Logitech Z407 Bluetooth Speakers, Logitech C922 PRO HD Webcams, office table and chair sets, LED monitors, and an HP-Pavilion 15-EH1121AU with Logitech Mouse, priced at over Php 50,000.
For more details, and to register for the promo, visit https://logitechrewards.ph.

Logitech products are also available at partner outlets, PC Express, Silicon Valley, DataBlitz, Octagon, Electroworld, Complink, iTech, Techwarez, Gameline, Interpace Computer Systems, GameXtreme, Office Warehouse, TTi, GameOne, JOYO, Gadget Headz, DynaQuest PC, Digi-Serv Solutions, Concept Computer, NUTECH, DFE (Davao Futurebright Enterprises), Villman, PCWorx, Abenson, Digistore, and Greenware.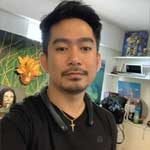 Josh Austria
Aside from being a businessman, Josh Austria has been working in PR and media industry for more more than a decade. From his years of experience as the Marketing and Advertising Head of Village Pipol Magazine, he has built strong relationships with creative people, brands, and organizations.