Get discounts of up to 50%, and other amazing deals on the best gaming gear from Logitech G! Catch them when you shop at the Logitech 12.12 Big Christmas Sale in Shopee!
The world is going digital, and gaming is here to stay as a fun indoor activity. People can turn to it for enjoyment and entertainment.
Gaming has also elevated the way we stay connected and remain social, especially now that face-to-face interaction remains limited.
While more of us begin embracing gaming as part of our lifestyles, the need for upgraded gear is growing, too. The right gear, after all, is essential to creating the best gaming experience for everyone. 
This December 12, Logitech is giving shoppers the opportunity to get all the best gaming gear at specially discounted prices.
Happening in the  Logitech Official Store in Shopee, the 12.12 Big Christmas Sale promises discounts of up to 50% on select items, cashback capped at Php 100, and free Sodexo GCs worth Php 100, Php 200, and Php 500.
You also get Php 200 off for a minimum purchase of Php 3,000. Plus, an additional 2% off for every purchase of 2 units. You also have an additional 5% off for every purchase of 3 or more units. Special bundles and freebies await shoppers as well.
Wired or wireless gaming gear? Logitech G has both!
Fans of wired gaming gear have a lot of choices to splurge on this 12.12.
Check out the G433 Surround Sound Gaming Headset, and be fully immersed in your favorite game's sound design. This headset promises fantastic audio performance every time you play.
It is lightweight, comfortable, and durable, and able to create precise and accurate in-game spatial awareness. You can hear every important sound detail, from movements to special ability cues. You look extra sleek, too, when you get this headset in black.
Logitech G also has an ultra-fast G402 Gaming Mouse that uses sophisticated sensor technology for high-speed tracking.
Tracking speeds go beyond 500 IPS with this mouse's optical sensor. It features Logitech Delta Zero™ technology, combined with Logitech's exclusive Fusion Engine™ hybrid sensor. 
The G633s Lightsync Gaming Headset creates the ultimate sonic experience with expansive cinematic sound. It allows you to enjoy epic soundtracks, and hear everything going on within your game.
This headset combines the most advanced audio technology and endurance materials. Due to this, it is capable of performing with greater precision than those with standard 7.1 channel surround sound. 
Gain a minimalist advantage with Logitech G's G512 Mechanical Gaming Keyboard, a high-performing keyboard that is simple yet full-featured.
Play with your choice of advanced GX mechanical switches—Clicky, Tactile, or Linear. All of which have been engineered and tested for performance, responsiveness, and durability.
This keyboard is crafted from an incredibly strong 5052 aluminum-magnesium alloy. It is perfectly combined with minimal design as a beautiful aesthetic.
If having wireless gear is what you're after, Logitech G has you covered as well. 
One of the best wireless options is the G502 Lightspeed Wireless Gaming Mouse, which was designed to be the ultimate G502 gaming mouse ever made.
This mouse allows you to perform flawlessly with total wireless freedom. Thanks to its combination of industry-leading wireless technologies, Lightspeed, Hero 25K, and Powerplay.
You could also get the G903 Wireless Gaming Mouse, which is said to be one of the best wireless mice for gamers.
Also, it is equipped with the winning combination of an advanced Hero 25K gaming sensor. Above all, some Lightspeed Wireless technology, and PowerPlay wireless charging.
This mouse is capable of delivering unparalleled, class-leading efficiency for an amazing gaming experience. 
Meticulously crafted from premium materials, this keyboard features a beautiful, sophisticated design, in compact form.
G913 is considered to be a breakthrough in design and engineering. It is equipped with Lightspeed pro-grade wireless, advanced Lightsync RGB, and high-performance low-profile mechanical switches.
The ultra-lightweight G733 Wireless Gaming Headset allows you to play your way. Of course, as you look and sound more stylish than ever.
This headset is designed for comfort and is equipped with surround sound, voice filters, and lighting. It comes in cute lilac color, too. With this headset, your gear can be just as expressive as you are.
Give your gaming rig a boost, just in time for the holidays. Shop at the 12.12 Big Christmas Sale at the Logitech Official Store in Shopee. Visit the Logitech website and official Facebook Page to learn more.
Logitech G products are also available at partner outlets, PC Express, Silicon Valley, DataBlitz, Octagon, Electroworld, Complink, iTech, Techwarez, Gameline, Interpace Computer Systems, GameXtreme, Office Warehouse, TTi, GameOne, JOYO, Gadget Headz, DynaQuest PC, Digi-Serv Solutions, Concept Computer, NUTECH, DFE (Davao Futurebright Enterprises), Villman, PCWorx, Abenson, Digistore, and Greenware.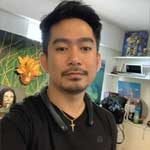 Josh Austria
Aside from being a businessman, Josh Austria has been working in PR and media industry for more more than a decade. From his years of experience as the Marketing and Advertising Head of Village Pipol Magazine, he has built strong relationships with creative people, brands, and organizations.