The Future of Gen Z is here! The ASUS VivoBook series has collaborated with Don't Blame The Kids Apparel Co. Starting today until July 15, 2021, the ASUS VivoBook X DBTK collab will allow every customer who purchases select ASUS VivoBook laptops to receive a free limited edition DBTK merchandise worth Php3-thousand. Said laptops would include VivoBook Flip, VivoBook S, VivoBook, and VivoBook Gaming. The merchandise, on the other hand, will include a shirt, laptop mat, laptop sleeve, face mask, and a sticker packed with ASUS DBTK Box.
ASUS VivoBook Series X DBTK empowers the future of today's youth to #WowTheWorld 
ASUS VivoBook series chose to work in partnership with Don't Blame the Kids Apparel Co. (DBTK®) has one main goal. They set to resonate the parallel message of empowering the future of today's youth to #WowTheWorld. This has become the official tagline of the technology brand for the youth. This, on the other hand, aims to freely express themselves and push their limits in pursuing their passion. Meanwhile, discovering themselves along the journey.
ASUS VivoBook will also collaborate with Riva Quenery as the official ambassadrress to help spread the message.
This draws inspiration from themes that reflect the ideas and attitudes of today's youth. Also known as  the Gen  Z, energetic, vivid, creative, true to be themselves, and thinks out of the box. These also became the personalities that perfectly vibes with the ASUS VivoBook Series. It is created to express yourself and dare to be different. Free yourself and break the mold. And, finally discover yourself and find the best in you.
Whether you are a student, aspiring content creator, budding entrepreneur, or a fresh graduate we have an ASUS Vivobook laptop just for you. Of course, this can match your personality, style, and requirements. This series comes in a variety of color options for basic computing requirements. 
Vivobook Flip
This convertible laptop comes with a a 360-degree Ergolift hinge. It lets you transform your laptop into tent mode or tablet mode. This series also comes with an ASUS Pen that lets you unleash your creativity.
Vivobook S
This, on the other hand, became available in different colors. It can make you stand out more without compromisi the performance that you need. It has a top-notch processors and SSD storage. You can also get 40% better CPU performance with ASUS Intelligent Performance technology if you get the model with Intel 11th Generation Processors.
Vivobook Gaming
Of course, this will remain perfect for those who want a laptop that they can use for classes and light gaming.
Don't Blame the Kids Apparel Co. (DBTK®) is a lifestyle & clothing brand that thoughtfully creates crafted quality goods. This embodies functionality and exhibits exceptional artistry which expresses stories, messages, and experiences about culture and the youth of people from all walks of life.  DBTK® also draws inspiration from those who think differently. They target curious teens or today's Gen Zs who seek to pursue their passion and make their goals a reality. Kids who put in the effort to learn and explore the endless possibilities before them.
Click here to visit our official microsite to know more about promo mechanics, registration, participating laptops, and stores. Do not miss out on this once-in-a-lifetime lit collaboration from the trendsetters of today's youth!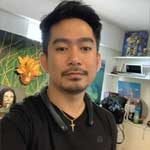 Josh Austria
Aside from being a businessman, Josh Austria has been working in PR and media industry for more more than a decade. From his years of experience as the Marketing and Advertising Head of Village Pipol Magazine, he has built strong relationships with creative people, brands, and organizations.