Andrew Garfield has always been a sweetheart ever since his portrayal of the beloved friendly neighborhood Spiderman. This is way back in 2012 which was still outside of the Marvel Cinematic Universe.
The actor has gained a lot of attention after the stint. However, as time went by, he seemed to haven't achieved the same appreciation. This is despite his nomination in the Academy Awards for Hacksaw Ridge, way back in 2016.
Things seem to be working in his favor this exciting year of 2022 after winning Best Actor in a Motion Picture — Musical or Comedy for Tick, Tick… Boom! in the Golden Globe Awards.
Being part of the Marvel Cinematic Universe
Not only that, but probably the most talked about is his participation in yet another box-office hit of the Marvel Cinematic Universe. We're talking about Spiderman: No Way Home, the third installment to their famous (sometimes very overused and over-rebooted) hero.
As he slowly ascended into the eyes of the mainstream audience once again, Andrew started to appear and guest on some shows and podcasts. Some, for his amazing musical, Tick, Tick… Boom!, but mainly for Spiderman, of course.
The movie is one of the most highly-anticipated movies of the MCU, bringing together the three actors who played the web-slinger, including the current one of the Cinematic Universe.
If that isn't iconic enough, I don't know what is.
Lying to close friends, including Emma Stone
In an episode of the Happy Sad Confused podcast, the actor detailed how he tried so hard to not reveal his return as Peter Parker in Spider-Man: No Way Home. This means he even had to lie to his former "Spider-Man" co-star, in a different franchise and universe, Emma Stone.
The two very talented actors starred together as Peter Parker and Gwen Stacy in Marc Webb's The Amazing Spider-Man and The Amazing Spider-Man 2. While Andrew's return for Spider-Man: No Way Home was speculated by many, the actor lied to everyone he knew in order to protect the major secret.
Of course, this includes her former Gwen Stacy. In the interview, he was asked if he had told either Emma or Marc Webb about his No Way Home return.
"Emma [Stone] kept on texting and she was like, 'Are you in this new 'Spider-Man' film?'. And I was like, 'I don't know what you're talking about.' She was like, 'Shut up. Just tell me.' And I'm like, 'I honestly don't know.' I kept it going even with her. It's hilarious."
The actor shared that he maintained answering "no", leading up to the film's release.
"And then she saw it. She was like, 'You're a jerk.' I didn't want to tell anyone. I took it super seriously. I told no one."
This cute banter is just a testament to how cute the relationship of the two is (not mentioning their past relationship).
What do you think of the new Spiderman film?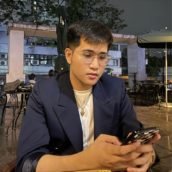 Rapha Garcia
Rapha is a person born between the generations of Millenial and Gen Z. He was produced by Cavite State University (Main Campus) with a bachelor's degree in Political Science. The lad has a fresh take on things, but can still stay true to his roots. He writes anything in Pop Culture as long as it suits his taste (if it doesn't, it's for work). He loves to wander around the cosmos and comes back with a story to publish.