Many Filipinos are getting more and more excited for the upcoming Yuletide season. But before you plan to hit the malls for your holiday shopping, you might want to download the StaySafe app. Find out here why!
Using technology for a more effective contract-tracing
Malacañang said last Friday that Inter-Agency Task Force (IATF) filed a resolution for all establishments to adopt the Stay Safe app and its QR code. This includes government offices, private companies, hotels, business establishments, and public transportation units.
The aim is to centralize or organize contract tracing efforts in our country. Presidential Spokesperson Harry Roque said, "They're also required to have a Safety Seal, which can be secured after the adoption of the Stay Safe application and the generation of its QR Code to be displayed in all entrances."
The resolution also required the Departments of Trade, Health, Labor, Local Government, Tourism, and Transportation to issue a joint memo. This memorandum will determine the requirements for the Safety Seal Certification Program.
Instead of manually filling up health declaration forms, users can use the Stay Safe app to scan the QR codes displayed at the entrance of establishments. The app is going to submit your information like name and health condition digitally for the purpose of contact tracing.
Upon downloading the app, you have to fill out basic information such as your name and health condition. The app will notify you and other users if any contact encountered tests positive for the virus.
The MVP Group's Multisys programmed the Stay Safe app and you can download it for FREE via iOS and Android.
This is a little thing that we can do to act more responsibly regarding our welfare and safety. Now, we have the means to do so, and cooperating with such measures can benefit us in the long run.
Do you guys agree?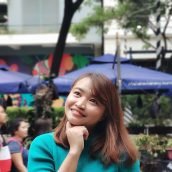 Queenie Lastra
Queenie Lasta got her bachelor's degree in Communications Research from UP Diliman. In her free time, she likes to read thriller novels, psychology books, and mangas. She believes in the importance of grit, hard work, and passion to become a great writer in the future.