Many of us anticipated the return of the British singer-songwriter Adele and she did not disappoint. She launched her first-ever record since the 2015 Grammy award-winning album and it broke the Internet!
A song that depicts love and hope after abandonment
We love Adele for her ballads about break-ups, melancholy, and regrets. The singer's lead single Easy on Me from her upcoming album triggered a lot of emotions. As per Spotifyrep, it easily rose to the top as the most-streamed song as of yesterday, October 15.
Previously, BTS' "Butter" was the record holder for that category, with more than 20.9M streams worldwide in just a single day.
For its music video, Easy on Me starts with Adele leaving a house with "For Sale" and "Sold" signs on it. She sings as she drives, her memories and songsheets swirling around her, and the video breaks into warm color after beginning in black-and-white.
It seems the lyrics of this emotional ballad are about a person pleading to be understood. For me, it's a song about lessons learned from a failed marriage. In life, we experienced despair and hopelessness but it should not stop us from pursuing our right to be happy and free.
Adele wrote the songs to explain her divorce to her young son
According to Adele, she was able to reflect during the recording of her latest album and shared how the process has allowed her to grow as an individual.
"I was certainly nowhere near where I'd hoped to be when I first started it 3 years ago. Quite the opposite actually. I rely on routine and consistency to feel safe, [which[ I always have. And yet there I was knowingly — willingly even, throwing myself into a maze of absolute mess and inner turmoil!" she wrote in the sentimental note. "I've learned a lot of blistering truths about myself along the way. I've shed many layers but also wrapped myself in new ones."
According to the singer, "I've finally found my feeling again. I'd go as far as to say that I've never felt more peaceful in my life."
"Easy on Me" also set a record on Amazon Music, The company announced that it has the most first-day streams of any song in the platform's history.
Adele has also said that she wishes the album as a whole to carry a message for her young song Angelo. We still have to wait for the release of her album titled 30 but we know it's worth it.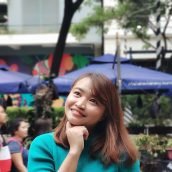 Queenie Lastra
Queenie Lasta got her bachelor's degree in Communications Research from UP Diliman. In her free time, she likes to read thriller novels, psychology books, and mangas. She believes in the importance of grit, hard work, and passion to become a great writer in the future.