What does the fresh scent of pine trees and strawberries, beautiful sceneries, and the cold weather remind you? Yes, they are a few things that make us want to visit Baguio City again. But because of the ongoing pandemic, this famous summer capital had to cancel its much-awaited Panagbenga Festival last February. Many of us are still hoping to enjoy the cool weather and food in this tourist spot. According to some news that we might be able to, pretty soon!
Baguio City possibly will re-open by September
A few days ago, Mayor Benjamin Magalong stated that they are planning to open Baguio's tourism industry. However, he also noted that its opening will depend on the situation of nearby regions. Magalong said, "Based on our timeline, we will open up our economy and tourism sometime in September with the assumption that things normalize in NCR, Region III, and Region IV."
Before the pandemic hit our country, Baguio City visitors could go up as high as 500,000. Magalong said he is eyeing to initially accept 10 percent of that number once Baguio is open. He further explained, "This time, when we open up, it's just like applying for a visa and that's precisely what we're doing right now with returning Baguio residents. You know the best way to do it is probably to start with about 10% and then start to learn the dynamics of it. "
Gradual re-opening of the city as a safety measure
He also added,  "Once we're used to managing the 10% and learn the dynamics of it, we start to increase it… 20%, 30%, 40%." Last April, Baguio City was hailed as a model city for its low count of COVID-19 cases. As of now, there are only 44 cases on COVID-19 in Baguio, in which 7 are only active. The Mayor said that the return of workers and residents might be the cause of the slight increase in these numbers. "Another is returning Baguio residents. Again we were able to detect because everyone has to go to triage. Third is 'yung OFW. In fact when we started 'yung OFW sometime in April 17, wala pang 16 nakakarating na OFW. We already detected immediately two OFWs coming from the US who are positive."
Aside from that, the city is also rebranding itself as a "safe vacation spot," which follows minimum health standards. Tourists coming into the city will undergo health inspections and then brought to a two-triage system for further monitoring. They have also institutionalized a technology-based contact system.
Are you guys planning to chill in Baguio once it re-opens?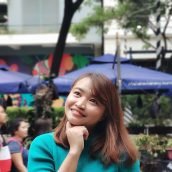 Queenie Lastra
Queenie Lasta got her bachelor's degree in Communications Research from UP Diliman. In her free time, she likes to read thriller novels, psychology books, and mangas. She believes in the importance of grit, hard work, and passion to become a great writer in the future.