Work, study, wherever life takes you with Logitech
A modern minimalist set-up that inspires creativity and productivity.
In this age of remote working and online learning, the world is literally your playground. You can be anywhere you wish to, and not use up vacation leave credits or miss classes.
Whether living out of a suitcase for the adventure of a lifetime or chilling out in your favorite holiday spot or simply staying home, Logitech has you covered.
Your personal companion
Be inspired, harness your creativity and boost your productivity in any place you find yourself in with Logitech's efficient and minimalist gadgets.
The MK470 Slim Wireless Keyboard and Mouse Combo will complete your office or learning set up without too much fuss and without cramping your style. The keyboard and mouse are quiet and will not distract. The keyboard is ultra-slim, and both are compact enough to fit in the tightest nooks.
The K580 Slim Multi-Device Wireless Keyboard can easily fit in your hand carry or tote bag. It is ultra-slim, compact and discreetly quiet. Ideal for computers, phones and tablets, it takes the stress out of multi-tasking. The Easy Switch buttons enable users to switch typing between two devices using the same keyboard.
With the K480 Bluetooth Multi-Device Keyboard, you can pair up to three devices wirelessly – laptop, tablet or phone – and seamlessly switch typing among them. It is thin, minimalist, lightweight, highly durable and has up to 24 months battery life. It is spill resistant for those small, accidental spills for when you're working or studying on-the-go. The built-in phone and tablet cradle fits gadgets up to 10.5 mm thick and 258 mm wide.
You can go personal with the M350 Pebble Wireless Mouse with its color options – rose, blue grey and eucalyptus. This compact mouse can also go with you on your adventures. It is also a silent worker, with its clicking sound and rubber scroll making 90% less noise than the average mouse.
The slim and lightweight K380 Bluetooth Multi-Device Keyboard is not just pretty in rose or off-white. It is also a hardworking mobile device that makes multi-tasking easier. It can be connected to up to three devices – computer, smartphone or tablet.
Order online and at local shops
Logitech peripherals are available at the Logitech Flagship Store in Lazada, Logitech Official Store in Shopee and other partner retail stores nationwide. Logitech products are also available at partner outlets, PC Express, Silicon Valley, DataBlitz, Octagon, Electroworld, Complink, iTech, Techwarez, Gameone, Interpace Computer Systems, GameXtreme, TTI, GameOne, DynaQuest PC, Digi-Serv Solutions, Concept Computer, NUTECH, DFE (Davao Futurebright Enterprises), Villman, PCWorx, Abenson, Digistore, and Greenware.
Visit the Logitech website and official Facebook Page to learn more.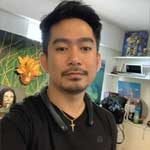 Josh Austria
Aside from being a businessman, Josh Austria has been working in PR and media industry for more more than a decade. From his years of experience as the Marketing and Advertising Head of Village Pipol Magazine, he has built strong relationships with creative people, brands, and organizations.