Work or Study Anytime, Anywhere with Awesome Logitech Accessories
Get these productivity-boosting gear and more at the Logitech 10.10 Sale on Shopee!

Among the advantages of working and studying from home is the flexibility that it brings. Many remote workers now have the freedom to work wherever and whenever they are most comfortable and productive.
At the same time, distance learning grants students opportunities to do schoolwork from anywhere.
They can study at their most convenient times, too.

In order to make the most out of this flexibility, it is important for online workers and students to remain efficient, and boost productivity as much as they can. One of the best ways to do this is by investing in high-quality, yet affordable accessories that can help you do your best work each and every time.
Productivity boosters
Logitech offers some of the best productivity-boosting gear to help students, teachers, employees, and entrepreneurs thrive online. You can check these out at the upcoming 10.10 Sale at their official store in Shopee, and enjoy unbeatable deals when you shop. Get up to 50% off on select items, cashback capped at Php 100, and free Sodexo GCs worth Php 100 and Php 150 on select items. With a minimum purchase of Php 3,000, you get an additional Php 200 off, and when you buy at least Php 4,000 worth of products, you get an additional 15% discount, capped at Php 1,000.

Stay Productive Whenever and Wherever You Work with Logitech

M221 Wireless Silent Mouse
The M221 Wireless Silent Mouse is quiet, comfortable, and easy to use, making it perfect for tight workspaces and busy desks.
Because it makes 90% less noise, it's great to use when you are working or studying around other people.
Also, this mouse is super portable, too, so you can conveniently take it with you, wherever you go.

M331 Silent Plus Wireless Mouse
Another super silent mouse that delivers both comfort and precision is the M331 Silent Plus Wireless Mouse.
Thanks to SilentTouch Technology, noise distractions are effectively minimized.
Also, you can remain completely focused, and zeroed in on your lessons and work tasks for the day.

M585 Multi-Device Wireless Mouse
The powerful and precise M585 Multi-Device Wireless Mouse is designed to perform as well as you do while providing hours of comfort. It connects to your computer, laptop or tablet, and with Easy Switch, you can pair this mouse with up to two devices at a time, and switch between them with just a click. Plus, its multi-device workflow lets you move your cursor across two computers to seamlessly move text, images, and files from screen to screen.

MK270r Wireless Keyboard and Mouse Combo
If you prefer a full-sized keyboard paired with a compact mouse for working anywhere, check out the MK270r Wireless Keyboard and Mouse Combo.
It's easy to see why this is the world's best-selling combo.
It has a winning combination of reliability, durability, and comfort, along with a familiar feel that just works.

MX Anywhere 2s
With the MX Anywhere 2s wireless mouse, you can make things happen anywhere.
This mouse takes multi-computer control to a new level, allowing you to transfer files and text between three screens.
See Also
You can really work anywhere with this mouse, which has a flawless sensor that tracks on virtually any surface.
Also, it charges quickly and can store enough power for a full day of work in just 3 minutes.

MX Master 2s
Logitech's MX Master 2s wireless mouse is the new possibility machine.
It has a perfectly sculpted shape that supports your hand and wrist in a comfortable, natural position.
Also, it delivers a fluid experience with its well-positioned buttons and wheels.
Its precision sensor tracks almost anywhere, too, even on glass.
Furthermore, this mouse easily pairs with up to 3 devices and can last for up to 70 days on a single full charge.

Boost your productivity, and work anytime, anywhere with amazing gear from Logitech. Shop for yours at their official store in Shopee on October 10. Visit their official website and official Facebook Page to learn more.

Lastly, Logitech products are also available at partner outlets, Octagon, Silicon Valley, PC Express, Datablitz, Complink, I-Tech/Gamezone, Electroworld, Abenson, Office Warehouse, PC Hub, PC Worx, Villman, DynaQuest, Techwarez, Gameline, Thinking Tools, Gaisano Interpace, Digi-Serv Solutions, Davao FutureBright, Concept Computer, and Nutech.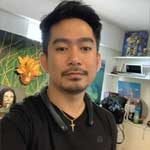 Josh Austria
Aside from being a businessman, Josh Austria has been working in PR and media industry for more more than a decade. From his years of experience as the Marketing and Advertising Head of Village Pipol Magazine, he has built strong relationships with creative people, brands, and organizations.