Village Pipol Co-Founder Back as Editor-in-Chief, Junior Editor joins roster of creativity
We are excited to announce the new editor-in-chief of Village Pipol Magazine, Mr. John Luke Q. Chica.
Mr. Chica is the co-founder of Village Pipol. It started out as an idea with Richie De Quina, a co-founder as well, and Mr. Chica just played around with creating the layout of the first issue of Village Pipol.
Mr. Chica is a published author and has been in the creative industry for almost two decades. He is also the former Marketing Head of one of the leading mobile phone brands in the Philippines way back in the decade of 2010.
Mr. Chica is eager to make a change to the face of Village Pipol and its purpose. And equip the publication to a whole new different level.
For those who are interested to know more about John Luke, you can visit his official author page by clicking on this link.
Junior Editor joining the roster of creativity
Kobe Laurena helps in the editing process as Village Pipol's Junior Editor.
He is a writer who loves to tell stories from the perspectives of different people and everyday life.
He began his writing career as a Staff Writer for StarStudio.ph, a former entertainment and lifestyle website of ABS-CBN.
Quite recently, he has written for pikapika.ph under Viva Communications, Inc. and the Content Studio of Inquirer.net.
Apart from the pen, he loves to pick up the lipstick to transform into his frustrated drag persona: Anita Good Lovin'.
Consequently, he aspires to combine his love for writing and drag by creating a novel, short story, or screenplay about local drag queens in the future.
Furthermore, he has an obsession with sitcoms, women's pro-wrestling, and Funko Pops.
In his best way, Kobe will not only help in the editorial process of Village Pipol but inspire his fellow writers and co-workers with his passion for his writing craft.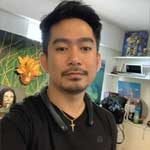 Josh Austria
Aside from being a businessman, Josh Austria has been working in PR and media industry for more more than a decade. From his years of experience as the Marketing and Advertising Head of Village Pipol Magazine, he has built strong relationships with creative people, brands, and organizations.