Have you already watched the popular Korean drama 'Fight for My Way' on Netflix? If you haven't, then you're missing out on a lot of fun and life lessons. Another interesting thing about this drama is that it is based on real-life!
Life and family of martial arts fighters
Fight for My Way explores the quarter-life struggles of best friends Choi Ae Ra (Kim Ji Won), Ko Dong Man (Park Seo Joon), Kim Joo Man (Ahn Jae Hong), and Baek Seol Hee (Song Ha Yoon) and how they conquer it by helping each other. The drama's writer revealed that the story and inspiration behind the characters of Ko Dong Man and Choi Ae Ra came from Choo Sung Hoon and Yano Shiho.
Choo Sung Hoon is a Japanese martial arts fighter of Korean descent. Meanwhile, his wife, Yano Shiho, is a Japanese model. They and their daughter Choo Sarang casted in The Return of Superman.
The writer got interested in martial arts when she saw both of them together. He felt the sadness seeing Yano Shiho cried during her husband's match. After that, he began focusing on the families and lives of the martial arts fighters. To know them better, he studied martial arts fighters for the drama. He had a misconception that these fighters just want women and drinking. However, he realized that they are just persons who live a typical life.
He added, "In order to maintain their form, they have no choice but to kind of live like a monk. I wanted to get rid of the stereotypes surrounding martial arts fighters. I studied a lot by going to a lot of matches and watching a lot of videos. The stories of the family members who couldn't bear to watch the matches were really sad, and watching the fighters who lost the match cry as they walked out the ring all felt really sad."
We really think that Fight for My Way should belong to the must-watch list of every KDrama fan. It's quite realistic but at the same time inspires us to work harder for our dreams.
Do you guys agree?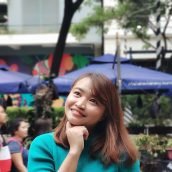 Queenie Lastra
Queenie Lasta got her bachelor's degree in Communications Research from UP Diliman. In her free time, she likes to read thriller novels, psychology books, and mangas. She believes in the importance of grit, hard work, and passion to become a great writer in the future.