The Aetas from Zambales are now selling their products online
COVID-19 pandemic took a toll on countless livelihoods of many, not only here in our country. Many sectors lost their jobs and closed their businesses so they have to look for other ways to earn their living. And based on what we are seeing from our Facebook timelines, many took advantage of being an online seller. Yes, even the Aetas in Zambales!
Make a Difference (MAD) Travel helps the Aetas sell their goods online
In San Marcelino, Zambales an Aeta community has been retailing fresh produce and other goods through the Internet. This indigenous group was also heavily affected by the quarantine financially. In a show by GMA News and Public Affairs, there's an episode entitled "Quarantours". It shows the difficulty of the Aetas as Sitio Yangin chieftain Gabriel Cabalic explained their dilemma.
Residents had not been able to sell their crops at the local market due to the lack of transportation.  He said, "Laking epekto po ang quarantine sa amin dahil 'yung aming mga produkto, hindi namin maibenta sa bayan kasi po bawal na po kaming lalabas sa bayan." Before the sitio is also a popular tourist spot but there's no visitor with the government's ban in all leisure travels.
In light of this situation, the non-profit organization  Make a Difference (MAD) Travel enables the sitio residents to earn online. The Aetas are now able to sell their mangoes, honey, coffee, baked goods, and vegetables. How successful is their project? The initiative has so far raised 8,000 seedlings for Sitio Yangin residents.
As a consumer, you can support the Aetas in Zambales in two convenient ways. First, you can order your grocery needs on the Mad Market website instead of buying online from big groceries. To order, just simply fill-up their online form, and then they will deliver the items right at your doorstep.  And if you have extra cash in hand, you can also donate at least PHP 150 for the basic needs of MAD Travel's partner communities in Zambales and Bataan.
This story is not only heartwarming, but it also inspires us to be resourceful and do hard work. Do you guys agree?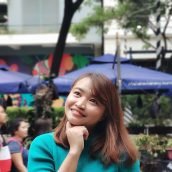 Queenie Lastra
Queenie Lasta got her bachelor's degree in Communications Research from UP Diliman. In her free time, she likes to read thriller novels, psychology books, and mangas. She believes in the importance of grit, hard work, and passion to become a great writer in the future.