Smart now offers Giga Stories 99 with 16GB of data for 7 days
One way of engaging online is posting photos of our life's mundane activities. It can be the picture of our pet, what we ate for lunch, or even a random selfie. The great thing is, Smart announced the arrival of its latest promo, the Giga Stories 99. This is quite suitable for people who love Facebook, Instagram, and TikTok as well as Twitter.
Smart Giga Stories 99 is good for 7 days
Giga Stories 99 is a promo that comes with a total of 16 GB and valid for 7 days. By registering to Giga Stories 99, subscribers get Free Stories for All. This means having a total of 14 GB for FB, Instagram, Twitter, and TikTok at 2 GB per day, plus 2 GB worth of open access data. With this much data, you won't miss an update from your friends, family, and loved ones. Aside from that, you can also cheer up your peers by sharing more inspiring content]. It can also enable you to raise awareness within your social circle and help those in need.
Smart subscribers can also enjoy access to all of their favorite online content, whether it's streaming video and music, working with productivity apps, uploading your own content, playing mobile games, and more.
To subscribe to Smart Giga Stories 99, just dial *123# and choose Free Stories for All.
'Simple. Smart Ako'
As a way of empowering our digital lifestyle with easy digital solutions, Smart launches a new campaign "Simple. Smart Ako".  International third-party mobile analytics firms validate that Filipinos are able to live the Giga life powered by Smart's award-winning mobile data network.
Ookla, the global leader in internet testing and analysis, cited Smart as The Philippines' Speedtest Awards Winner for mobile network speed during Q1-Q4 2019. To win this award, Smart achieved a Speed Score of 17.40. It has average speed of 19.62 Mbps for download and 9.45 Mbps for upload.
Meanwhile, an independent mobile analytics firm Opensignal reported that Smart remained ahead of the competition in terms of Video Experience, Upload, and Download Speed Experience, Voice App Experience, Games Experience, and 4G Availability.
Do you find the Giga Stories 99 "sulit"?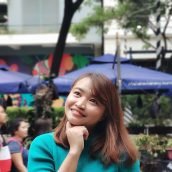 Queenie Lastra
Queenie Lasta got her bachelor's degree in Communications Research from UP Diliman. In her free time, she likes to read thriller novels, psychology books, and mangas. She believes in the importance of grit, hard work, and passion to become a great writer in the future.